Dac Nong or Dak Nong is renowned for the majestic landscape of waterfalls, nighttime campfires with the sound of gongs and the local-favored stem wine. The UNESCO executive board, at its 209th session on July 7, approved the designation of Vietnam's Dak Nong Geopark as a UNESCO Global Geopark.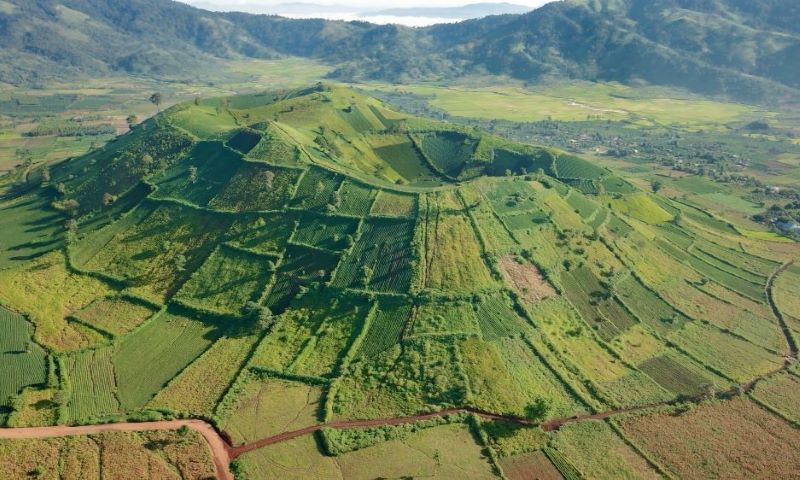 An arial view of Chu Dang Ya volcano. Photo by Nguyen Tan Kan
Quick Facts:
Square: 6515,6 km2. Population: ~ 600 thousands people
Town: Gia Nghia Town. Districts: Dak Nong, Dak R'Lap, Dak Mil, Dak Song, Cu Jut, Krong No, Tuy Duc.
The average temperature is 24ºC.
Dak Nong Province is located in the southwest of Central Vietnam, at the end of the Truong Son Range and lies on a large plateau with an elevation of 500 meters above sea level.
Dak Nong Province is surrounded by Dak Lak Province, Lam Dong Province, BinhPhuoc Province and Cambodia. Gia Nghia Town is 245km from Ho Chi Minh City, 179km from Phan Thiet (Binh Thuan) and 125km from Buon Ma Thuot (Dak Lak). Đắk Nông has three main river systems: Ba River, Sêrêpôk River and other small rivers
Dak Nong is suitable for tourists who like discovering superb natural fall scenery. Coming to Dray Nur Waterfall, one can hear the murmur sound of its flow from afar, and coming nearer, the sound becomes roaring. In Gia Long Waterfall, the flow is much smoother. Its stream does not flock into one side but gently passes through stones, tree roots and then runs to rivers. Apart of that, let save your time to visit Dray Sap Waterfall (Misty Waterfall), Ba Tang, and Dieu Thanh waterfalls. Dak Nong is the third park in Vietnam to have been awarded Global Geoparks by UNESCO so far after Dong Van Krast Plateau and Non Nuoc Cao Bang in northern Vietnam.