06 November, 2017
Under the framework of promoting Vietnam tourism market to ASEAN countries, Vietnam National Administration of Tourism (VNAT) has approved a FAM trip for leading Indonesian outbound travel agents and media to Vietnam from 24 to 29 October 2017. The FAM trip was developed and organized by GoldenTour & Convention and Vietnam Airlines Indonesia Branch. This was the second time Golden Tour organized such a FAM trip for Indonesian market. The 1st time was held in 2016 with the participation of 16 agents and media to Phu Tho, Sapa, Hanoi, Ninh Binh and Ho Chi Minh City.
This year all parties have decided to choose the Heritage road Da Nang – Hoi An – Hue - Hanoi – Halong Bay to be the main route to open new market and destination to Indonesian tourists. 11 participants from all regions of Indonesia such as Jakarta, Bandung, Bali, Bekasi and Jambi all are eager to start the journey.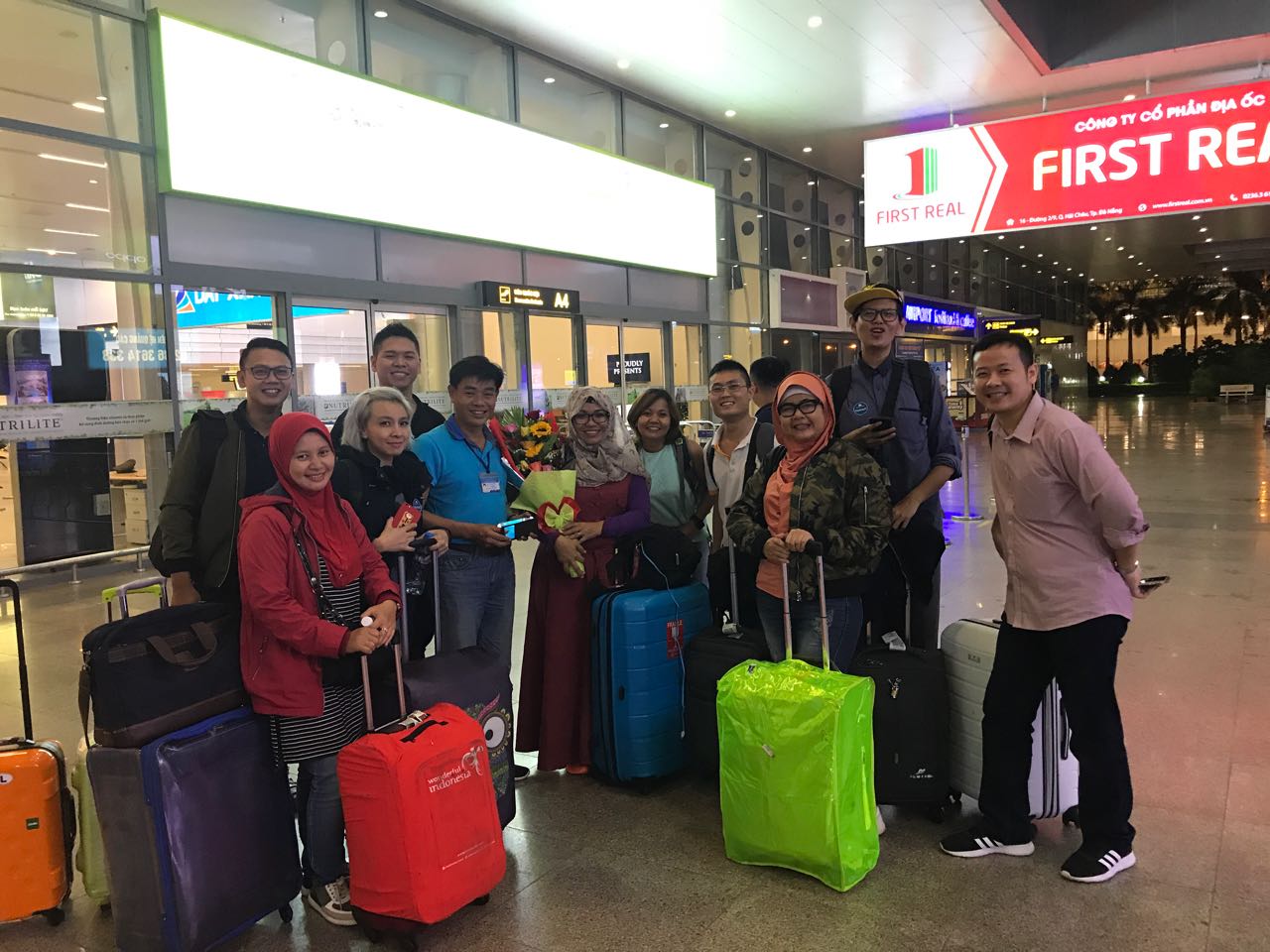 The FAM group at Da Nang International Airport
This season in Da Nang was quite cool already and that was well conveyed to the FAM participants. All of them bring their own light jacket to make the tri more convenient and easy.
In Da Nang, the group visited Cham Museum, Non Nuoc Stone Carving Village then transfer to Hoi An.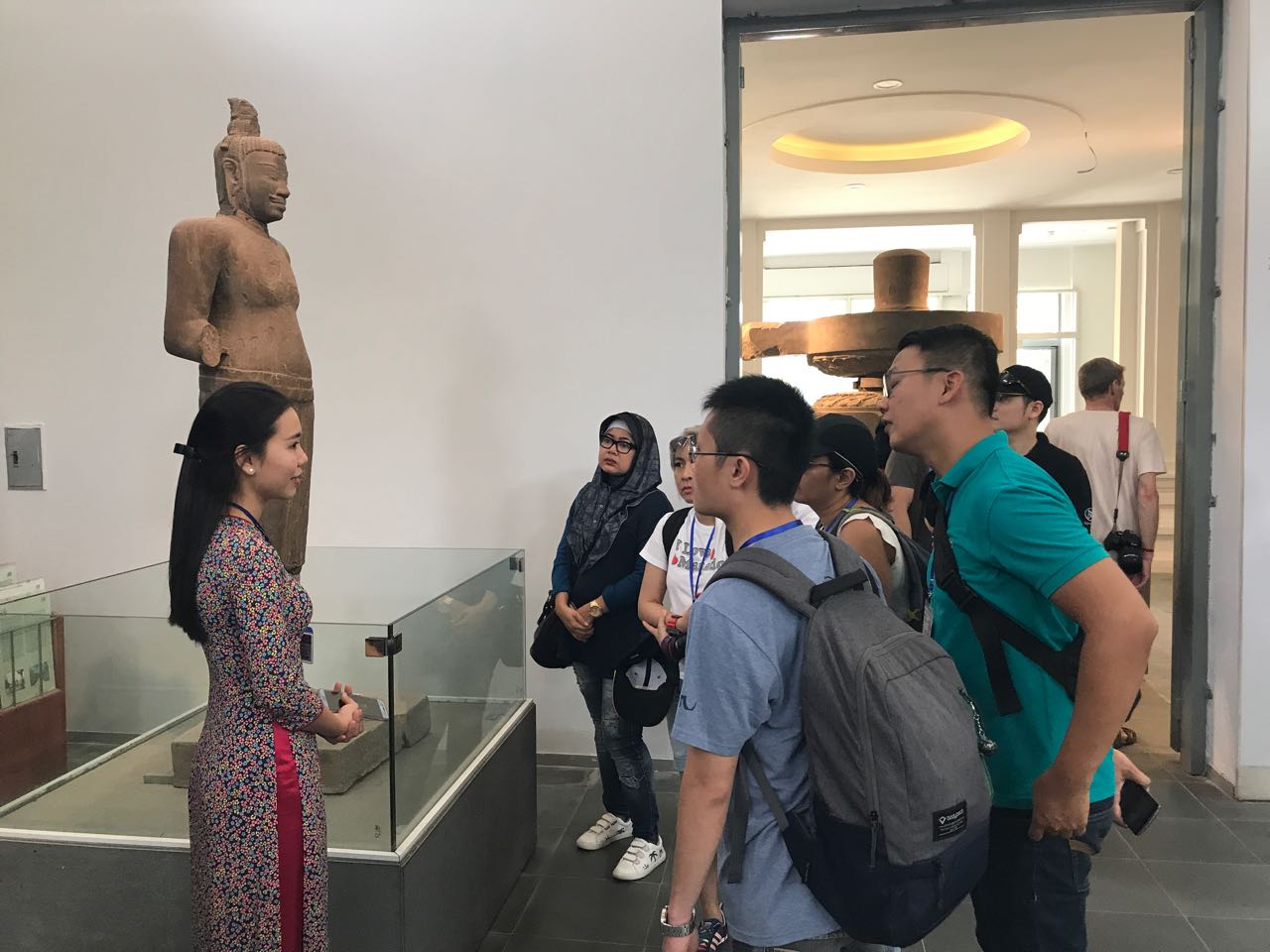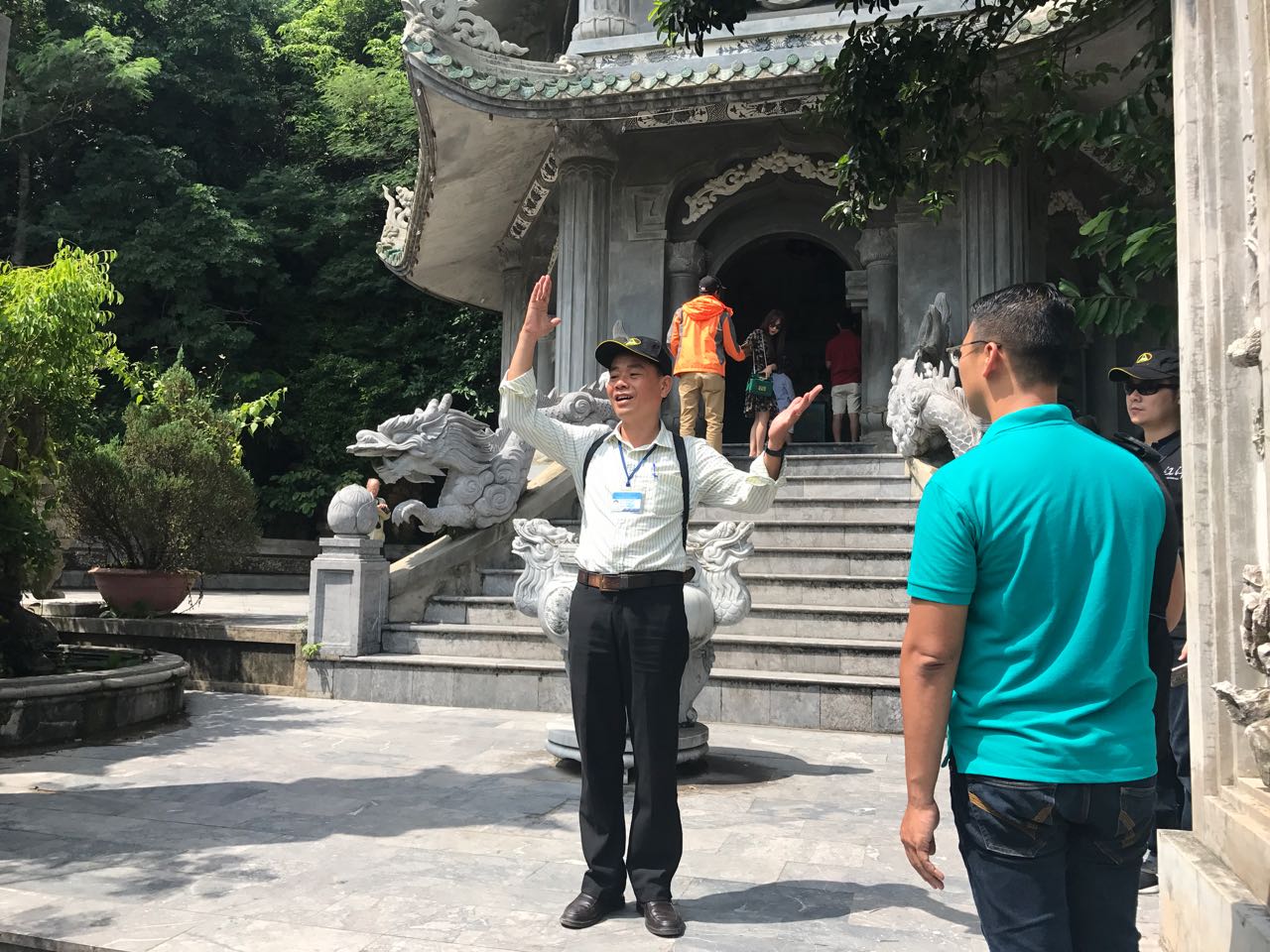 During the trip, Hoi An did make all of the participants impressed by the city's preservation, maintenance and operation of the Old Quarter as well as the peaceful and relaxing moments here. This was such a very focus point in the packages developed for Indonesia market.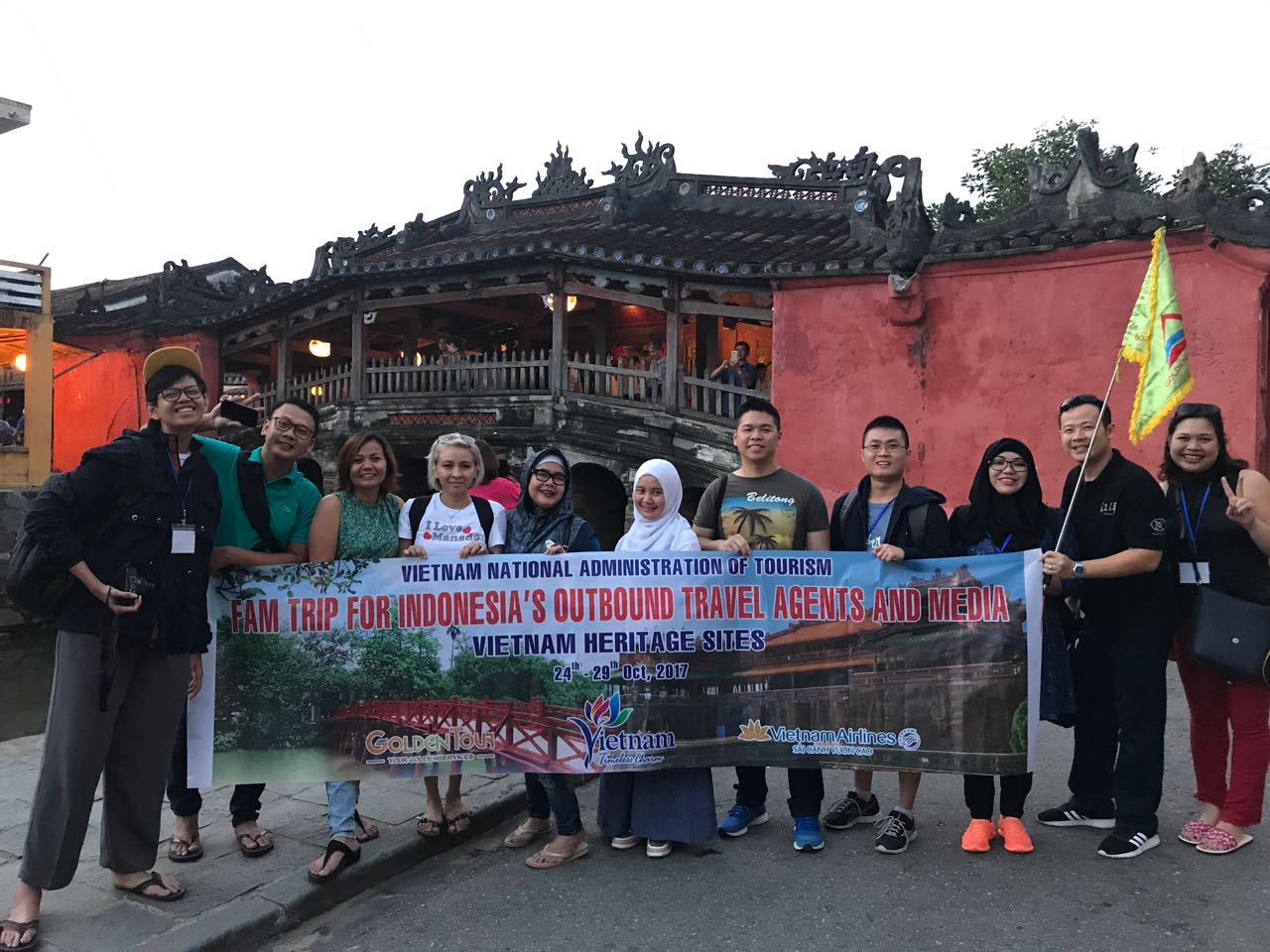 Hue City, on the other hand, could bring an endless inspiration of cuisine for tourists. Hue, with no doubt, was famous for its royal cuisine, splendid, sophisticated and fussily. Besides, tourists also were amazed by the religion, architecture and arts of Vietnam through visiting Royal Palace, King's tombs, temples and pagodas.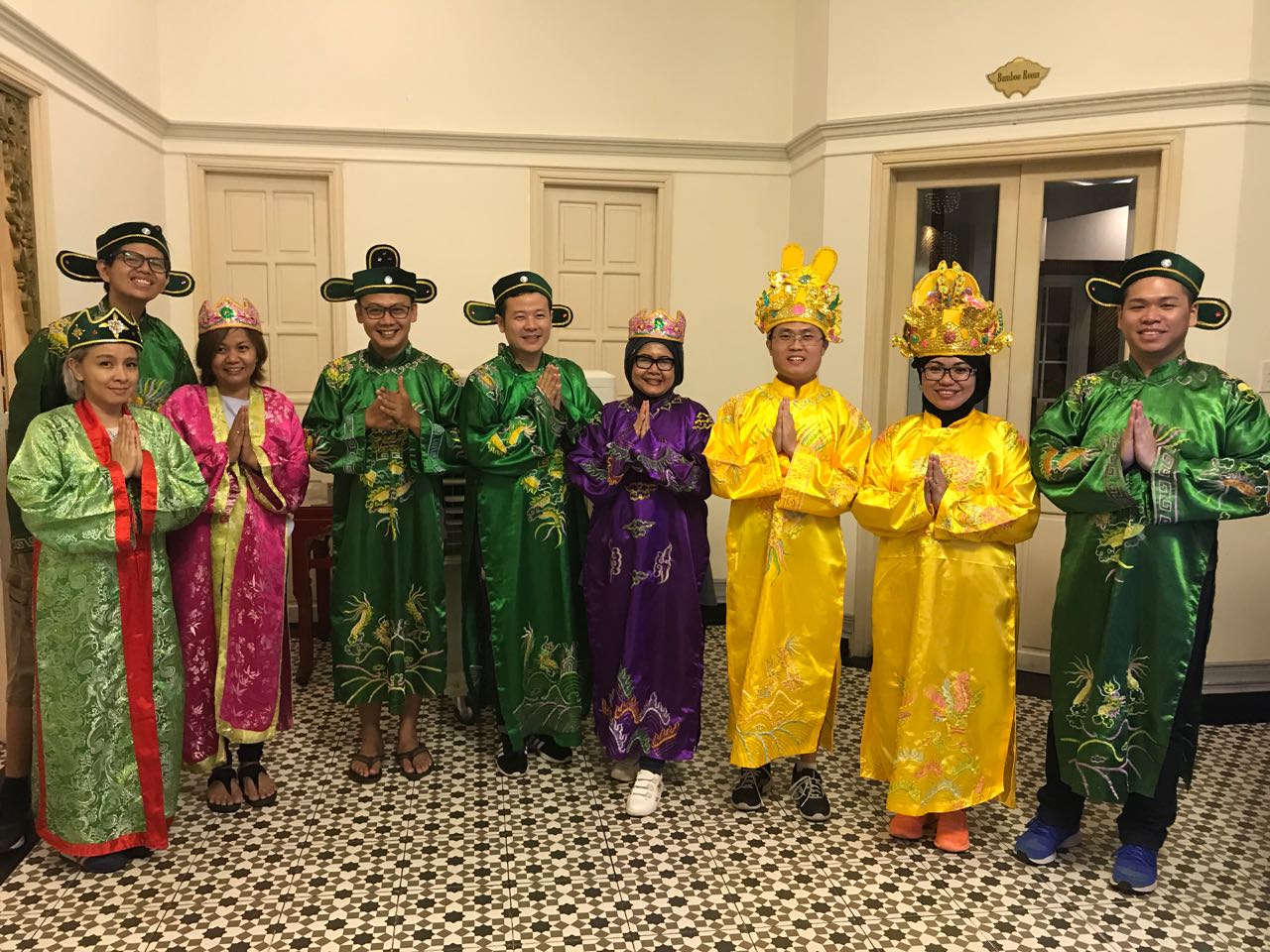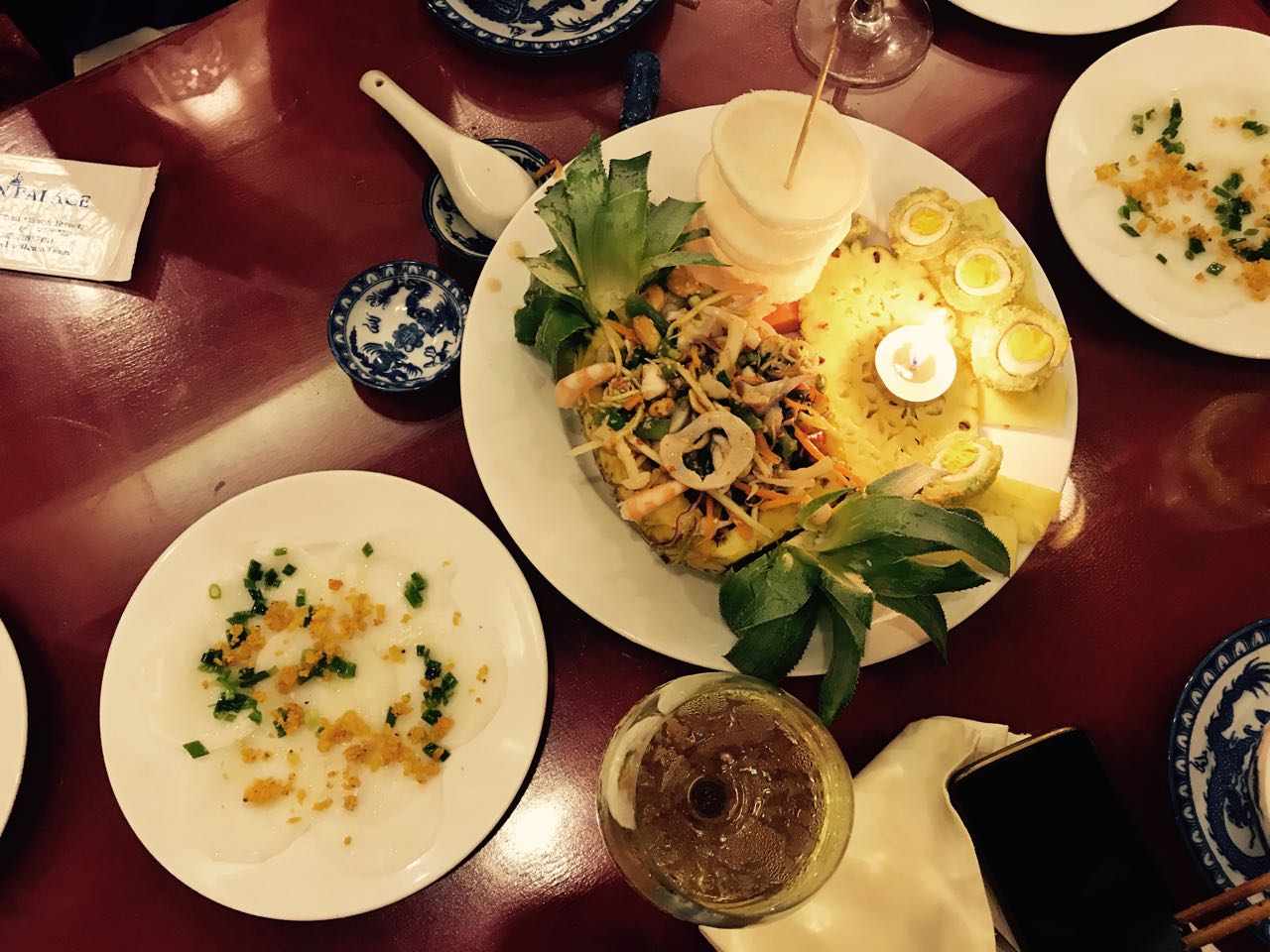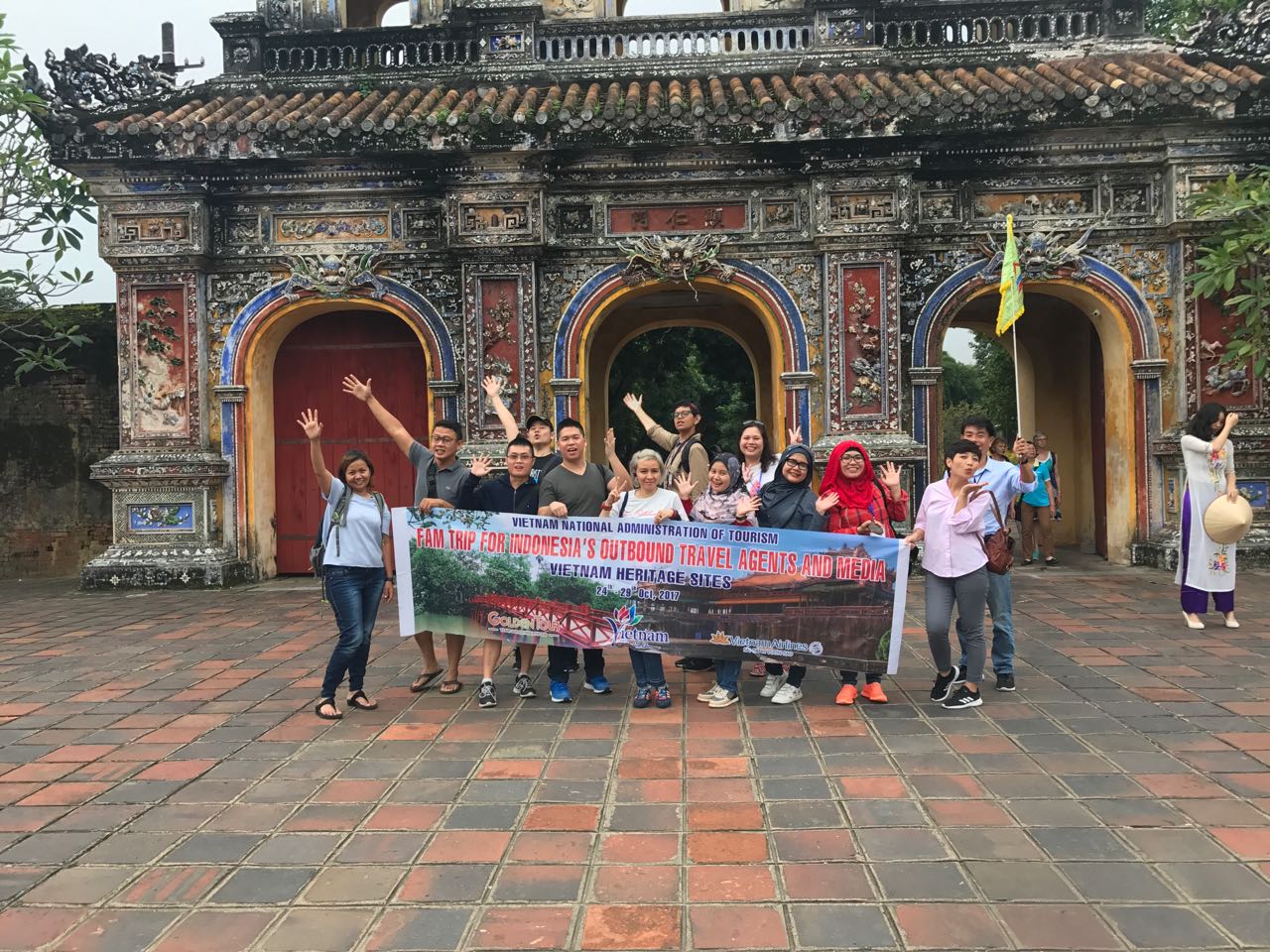 Taking morning flight from Hue to Hanoi, the FAM group had a delicious lunch en route and continue city tour to Ho Chi Minh Mausoleum, Royal Citadel, Temple of Literature and having fun on walking streets of Hanoi.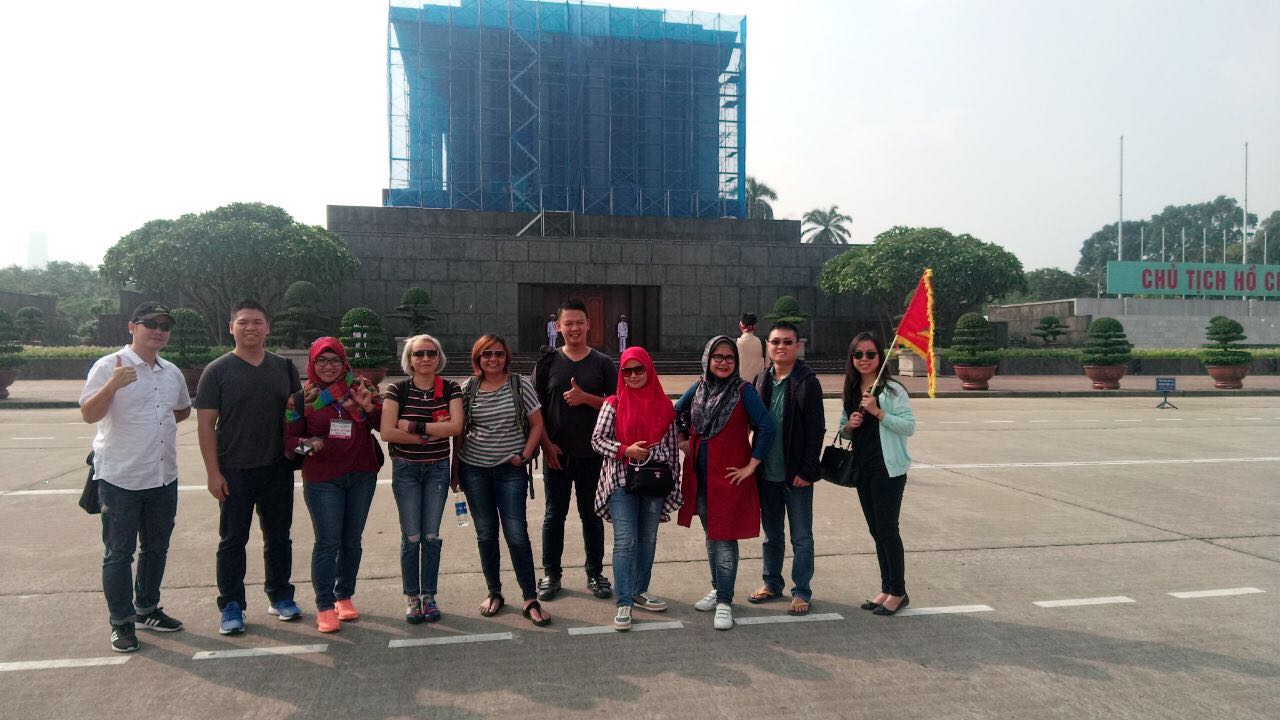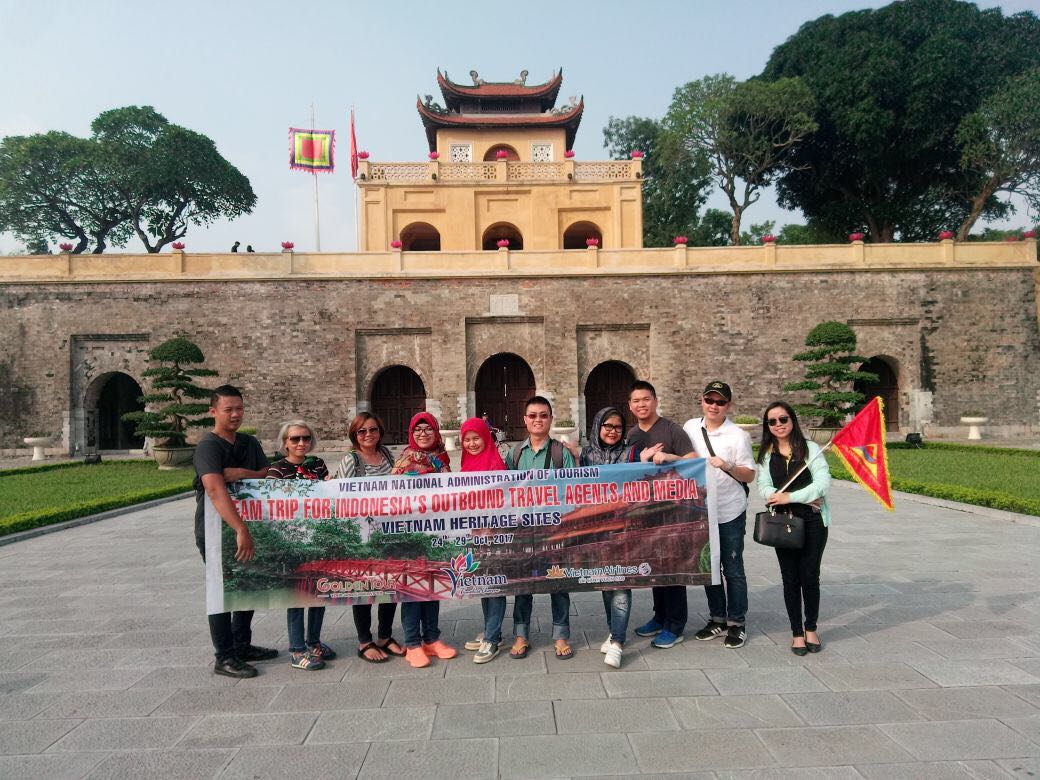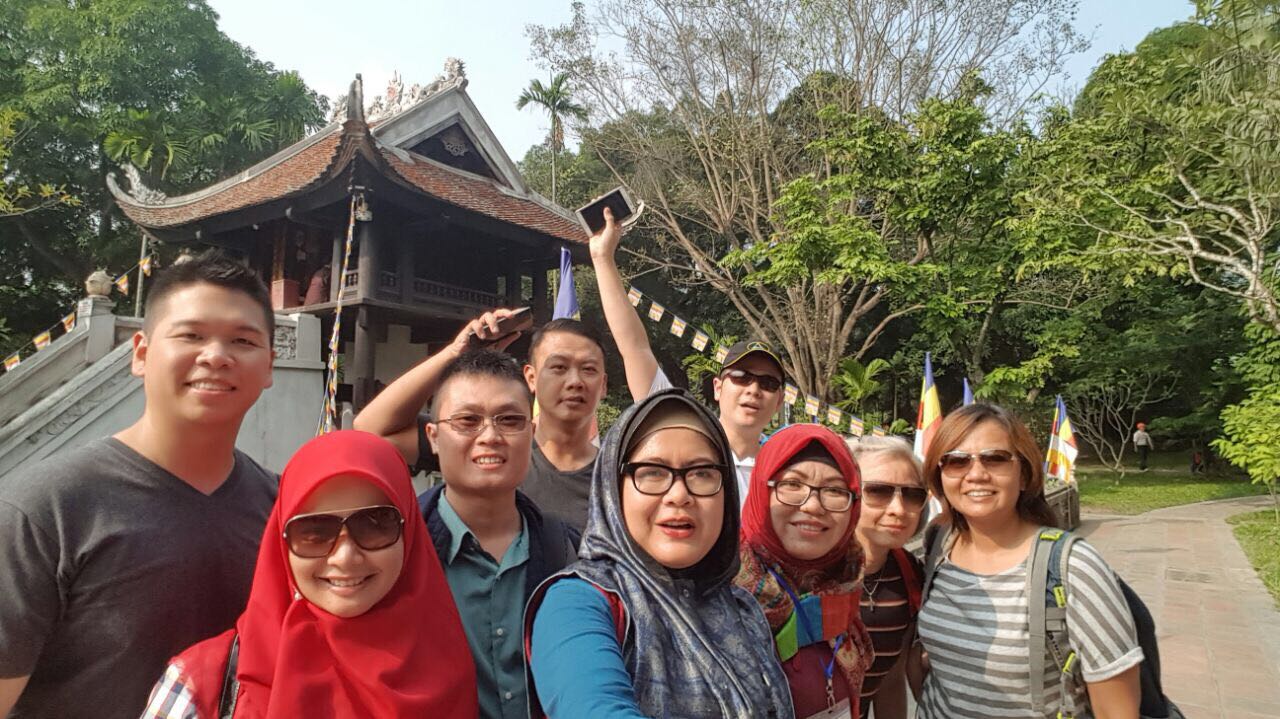 At the same night, all the participants of the FAM trip were warmly welcome by VNAT, the organizer represented by Mr. Nguyen Quy Phuong, Director of Travel Industry Department together with Mr. Andy Yudyachandra Dirgahayu – Minister Consellor of the Embassy of Indonesia in Vietnam and Mr. Peter Pham Tien Dzung, Director of GoldenTour and Convention. Through several days, all participants had time to know each other and that really made that night a cozy and friendly tourism exchange among Vietnamese and Indonesian parties.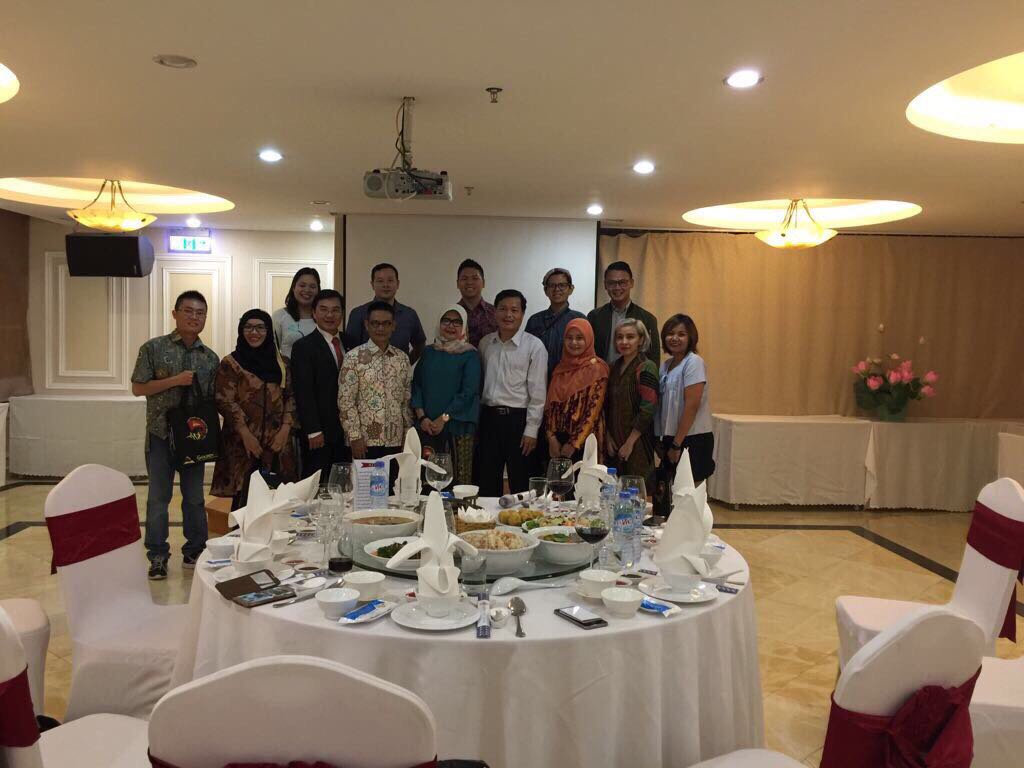 The last stop of the trip was Halong Bay, the most famous destination of Vietnam to Indonesian. The FAM was developed very well cause it was the most relaxing and leisure day for the group after some days of sightseeing and walking. It seemed that all of them really enjoyed the day and the fresh seafood at Halong.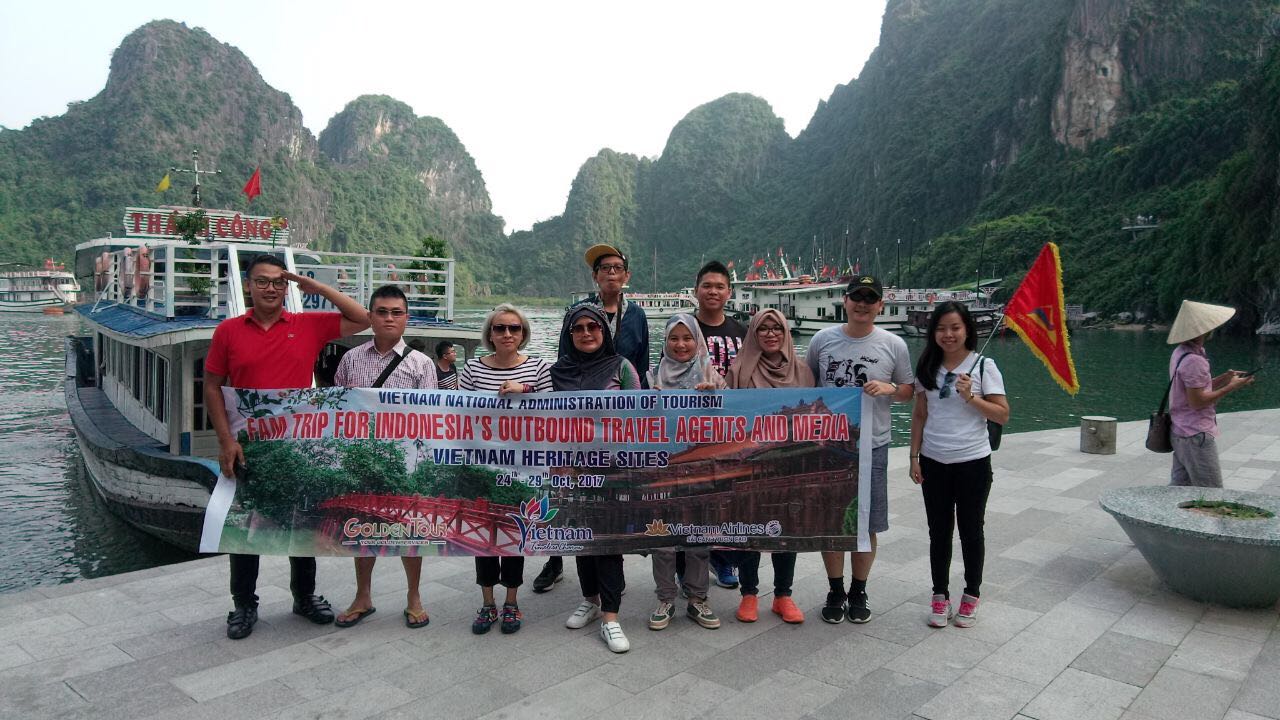 The Indonesian participants took the morning flight from Hanoi to Ho Chi Minh City then from Ho Chi Minh City to Jakarta, ending the FAM trip in happiness and friendliness.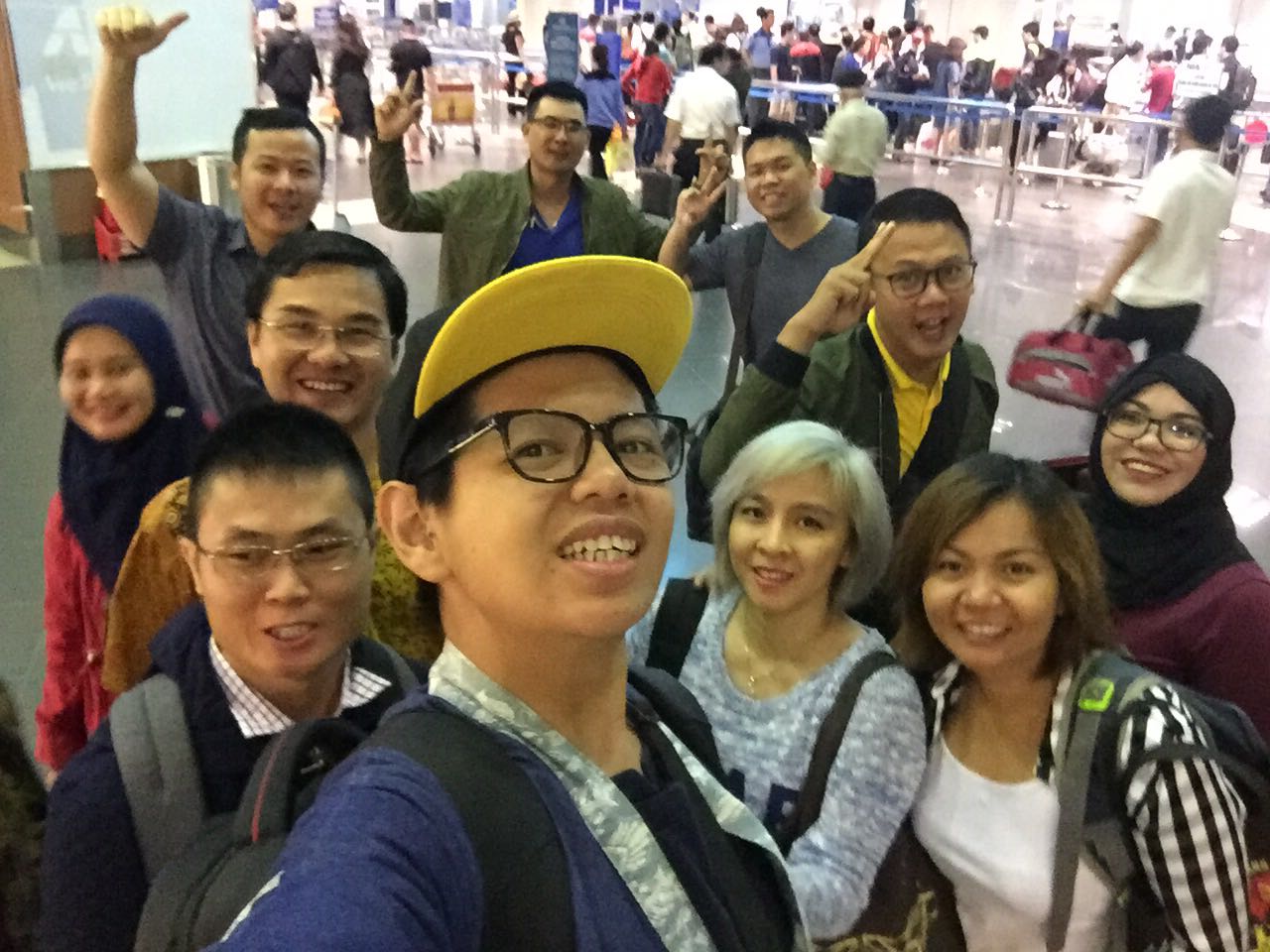 All along the FAM trip, the leading outbound travel agents and media from Indonesia expressed their surprise, adore to the beauty of Vietnam in both nature and culture. They did really appreciate the chance for taking this FAM trip and willing to start building and selling this package in Indonesia. They also looked forward to having direct flight from Indonesia to Hanoi and Da Nang in order to decrease the tour price to make the trip to Vietnam easier and more comfortable.
Source: GoldenTour News