05 October, 2020
GoldenTour - Vietnam's beauty has been captured by 13 of the best photographs submitted to a national travel photo contest. The photo 'Thuyen Hoa' (Boats of Flowers) by Tran Minh Luong won first prize while two second prizes went to Nguyen Quang and Le Nguyen Huy for their entries entitled 'Trong Suong' (In the mist) and 'Suong Som' (Early Fog), respectively.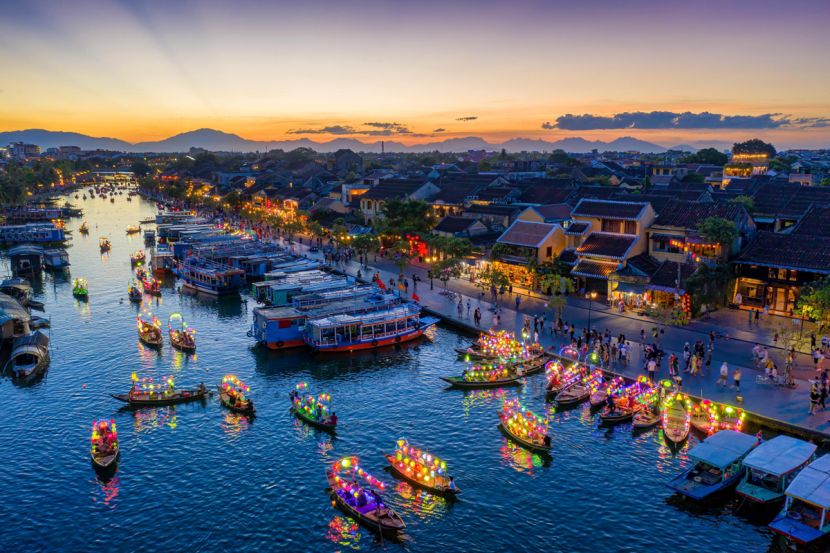 The 9th national tourism photo contest themed "Explore Vietnam" was organized by the Vietnam National Administration of Tourism, Travel Magazine and Vietnam Association of Photographic Artists.
In six months (January-June), the organizers received 15,610 entries from 1,118 Vietnamese and 14 foreign contestants.
The first prize went to "Flower Boats" by Tran Minh Luong, taken in the ancient town of Hoi An in central Vietnam, which captures in vivid colors boats on the Hoai River.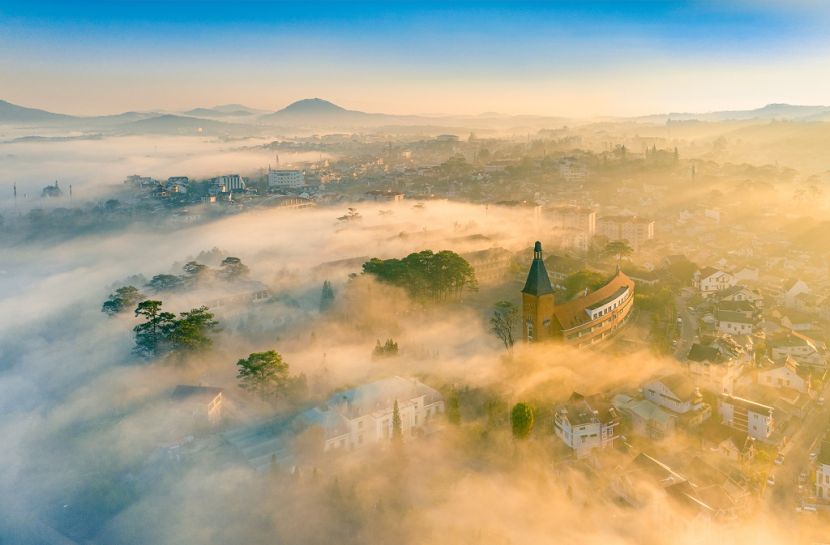 "Early Mist" by Le Nguyen Huy, taken in the Central Highlands resort town of Da Lat, won the second prize.
The aerial photo shows the Pedagogical College of Da Lat and its surroundings bathed in sunrays drenched mist. The building, designed by French architect Paul Moncet, was built in 1927.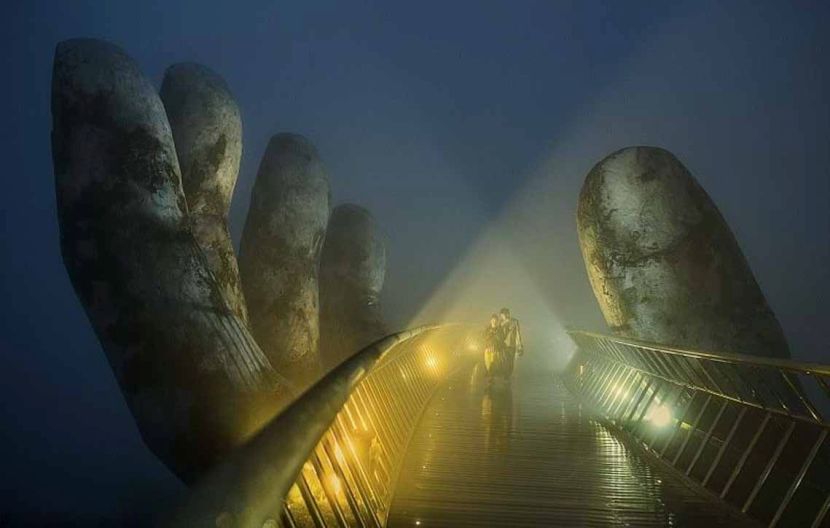 Another second prize went to "In the Mist" taken on the Golden Bridge in the central city of Da Nang by Nguyen Quang. The scene is imbued with natural mist and the bridge's lights.
The Golden Bridge, 150 meters long and 12.8 meters wide, is held up by two giant hands.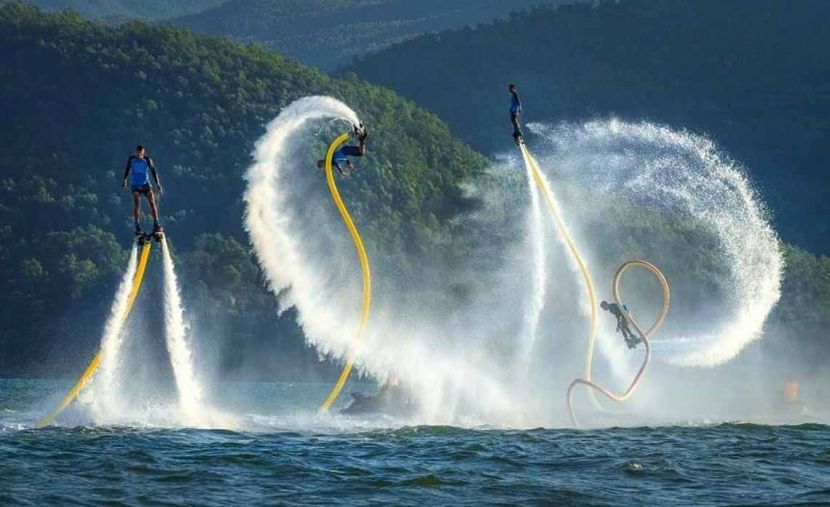 "Dancers of the Sea" by Nguyen Tien Trinh, capturing flyboard performers, won one of the third prizes.
This sport uses a set of skis with two thrusters, an engine and a jetski. Players use these to "fly" 6-10 m high and perform acrobatic moves.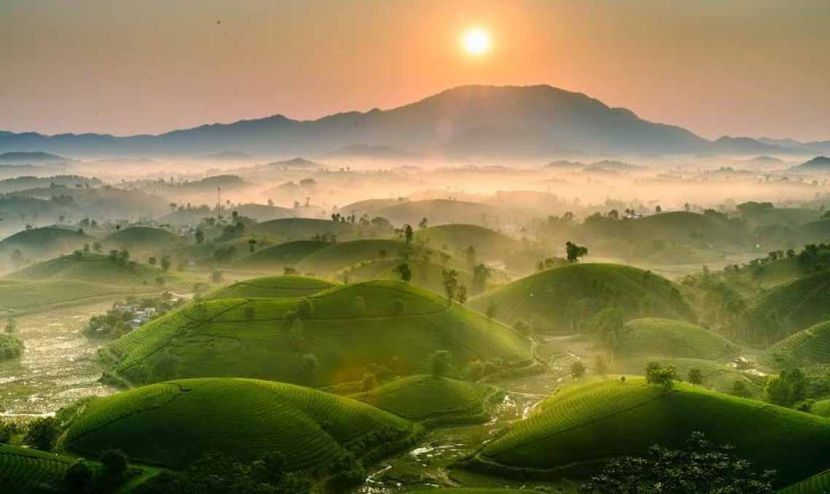 "Welcoming the Sun" by Do Thu Quyen, presenting mist-shrouded green tea hills greeting the rising sun, was taken in Long Coc Commune, Tan Son District, the northern province of Phu Tho.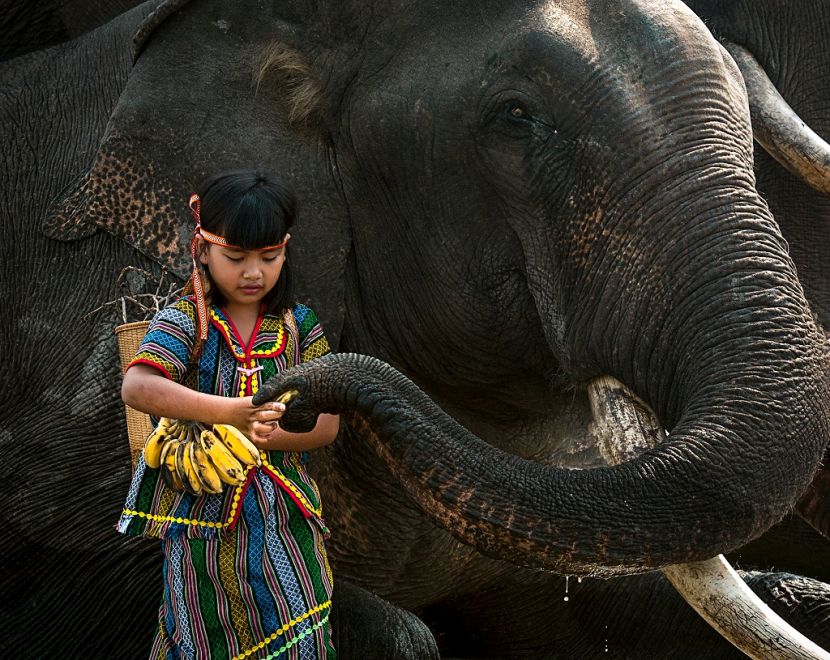 An ethnic minority girl feeds bananas to a tusker in "Friendly" by Ton That Tuan Ninh.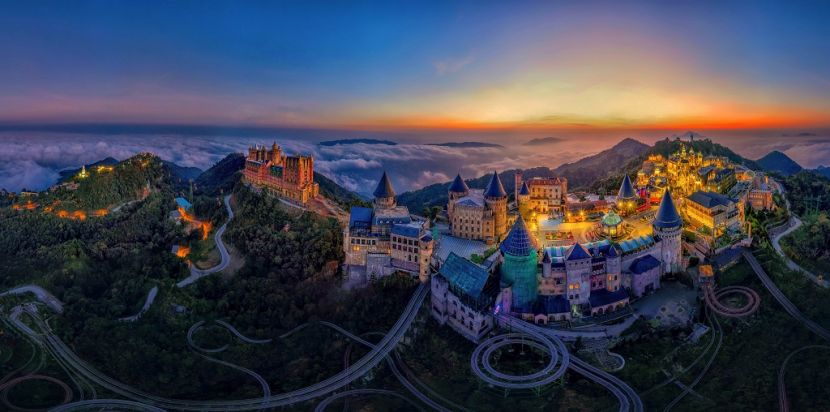 One of the five consolation prizes of the contest went to "Ba Na Hills - Da Nang" by Huynh Van Truyen.
Ba Na Hills has become a famous tourist destination attracting thousands to a vast entertainment complex in an European setting.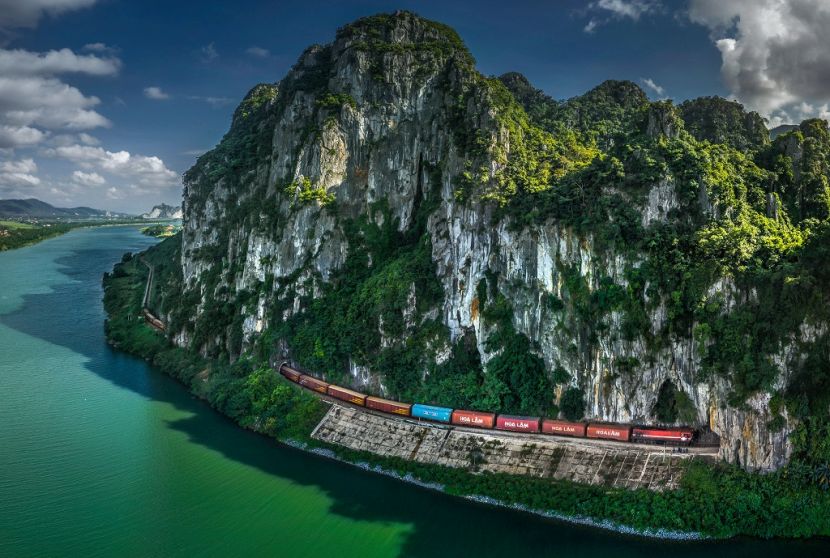 "The Train through Le Son Tunnel" by Tran Bao Hoa is an aerial capture of a north to south train passing through a tunnel in central Quang Binh Province.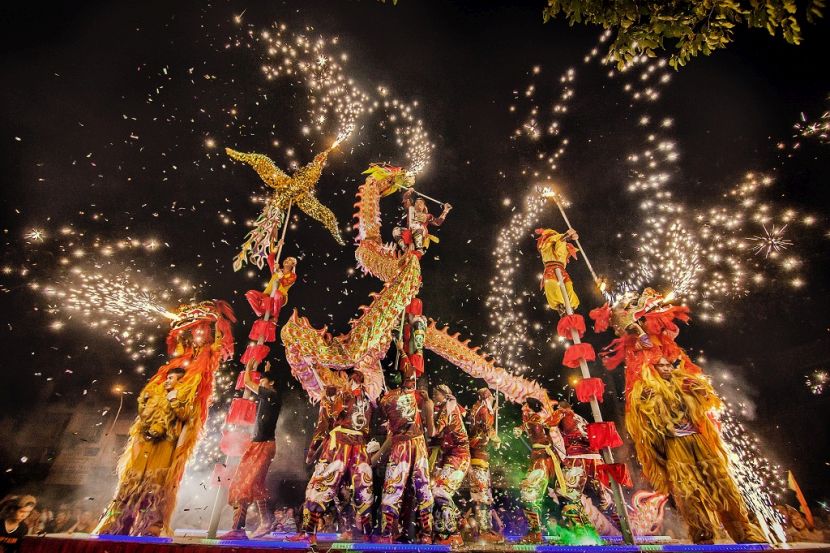 "Dancing with the Moonlight" by Nguyen Quang showcases the vibrant colors of a cultural performance on a Mid-Autumn Festival night.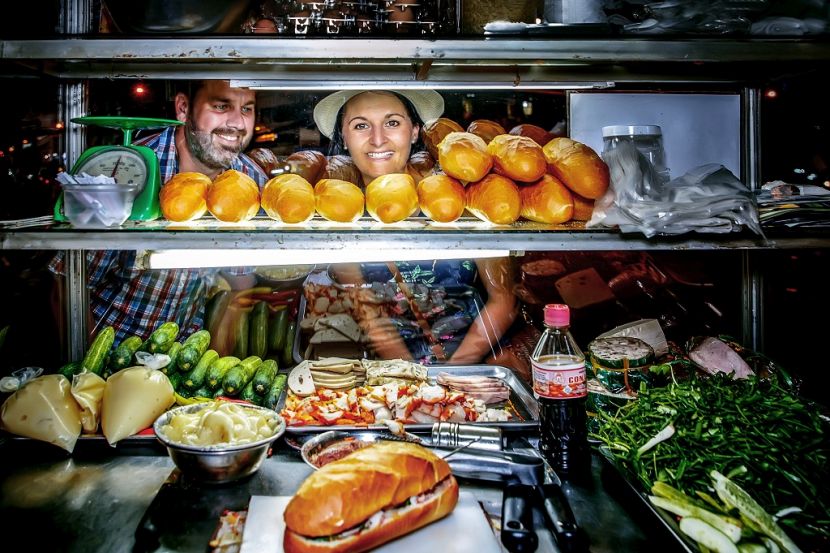 "Saigon Sandwich" by Tu The Duy shows two foreign visitors smiling at the culinary wonder of Vietnamese sandwiches that have become world-famous. It shows all the ingredients that go into making this delectable treat.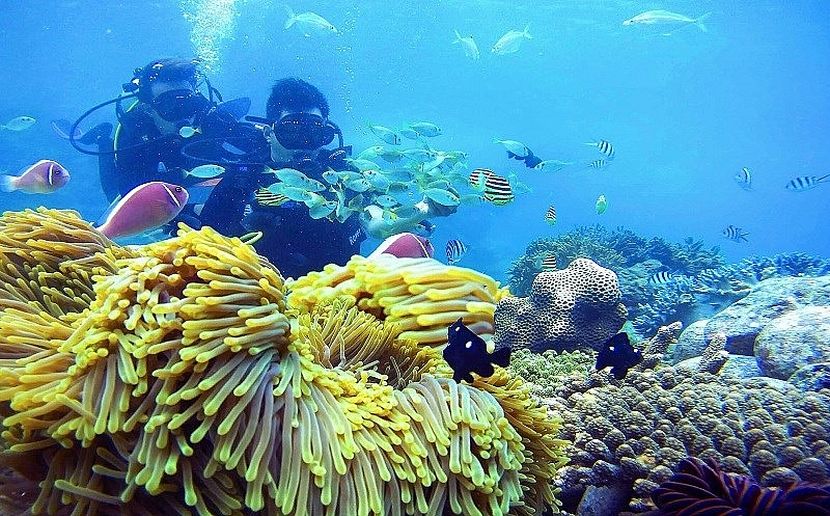 Nguyen Tien Dung's "In the Nature" is a shot of two tourists scuba diving and getting a close up view of underwater magic.
To see such corals in Vietnam, visitors can choose several destinations including Nha Trang Town, Phu Quoc Island, Con Dao Island and Da Nang City.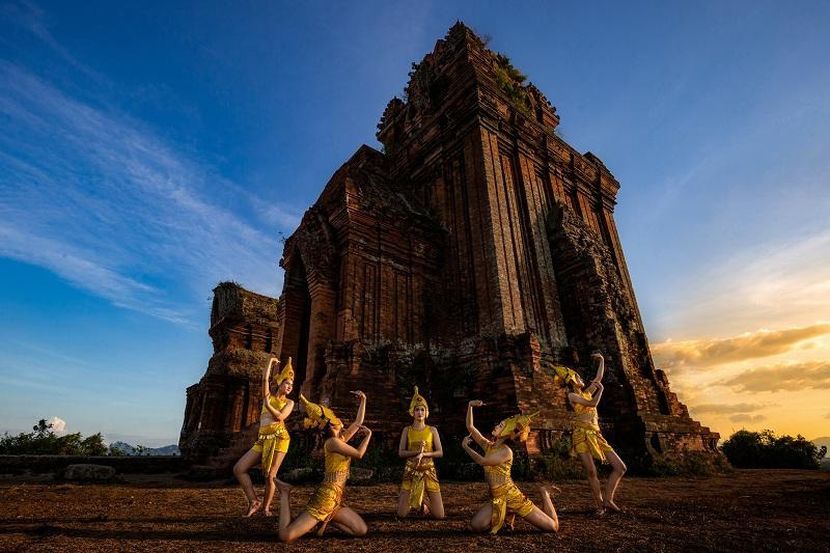 This photograph of a traditional Cham dance being performed in front of the Banh It Tower in central Binh Dinh Province won the most likes on the Facebook page of Travel Magazine.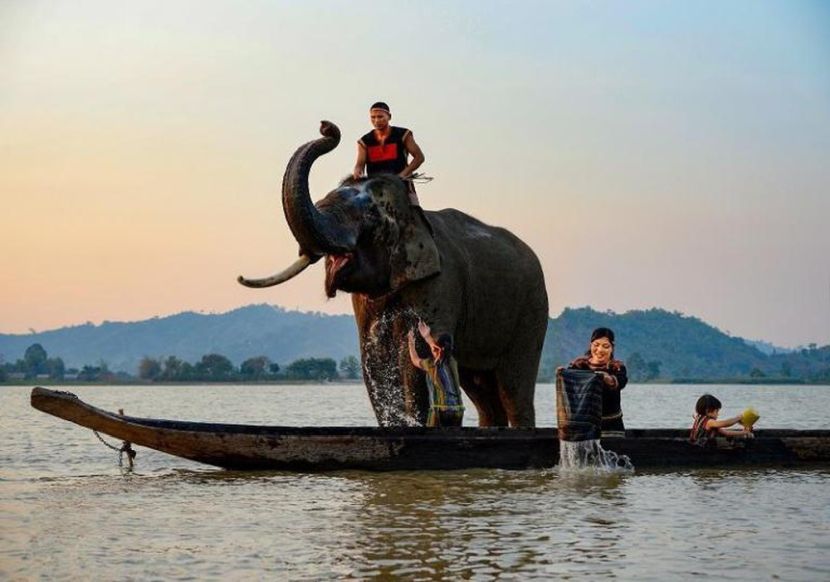 The photo that was most shared was "Family and Elephant" by Duong Hoai An.
An exhibition on the 13 award-winning works and nearly 200 other photographs is being held until September 30 at the Vietnam Military History Museum, 28A Dien Bien Phu Street, Ba Dinh District, Hanoi. Admission is free.
Source: e.VnExpress.net | Du lịch Nhiếp ảnh