27 September, 2020
Operated by the national flag carrier Vietnam Airlines, a return commercial flight from South Korea's Seoul (Hàn Quốc) landed at Hà Nội's Nội Bài International Airport Friday noon, marking a milestone in the restoration of the country's air transport after months of disruption due to the COVID-19 pandemic
Flight VN417 on the Seoul - Hanoi route was operated by an Airbus A350 wide-body aircraft, carrying Vietnamese citizens and Koreans professionals and investors. Passengers were required to meet certain conditions, such as visa to Vietnam, producing a negative SARS-CoV-2 certificate according to the Realtime PCR method within 03 days before departure, confirming their location of quarantine in Vietnam, installing a mobile phone tracking app, and completing relevant medical reports…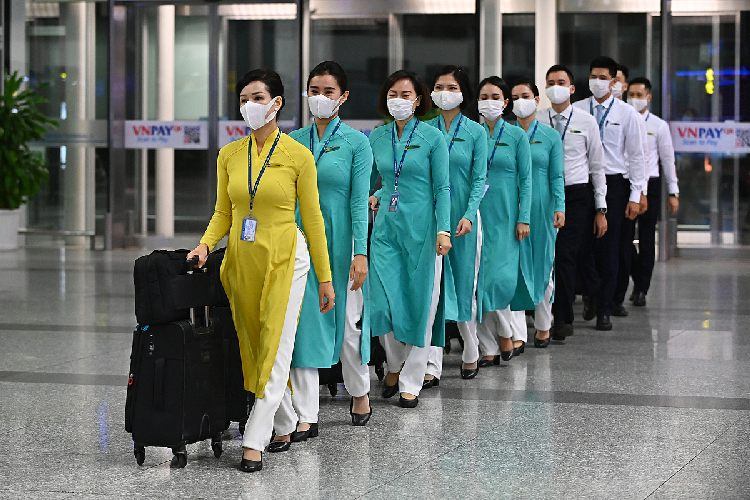 A Hanoi-Tokyo one way flight, Vietnam's first international commercial flight, carried over 100 passengers to Japan on 25 Sep.
Passengers have been tested for SARS-CoV-2 in Vietnam after the flight. Any passengers testing positive are to be transferred to a quarantine facility as per regulations. Passengers will otherwise be quarantined at the registered hotels and retested on the 6th day after entry or as soon as any symptoms of possible of infection arise. Pending a second negative test result, passengers will be allowed to relocate to their place of residence and undergo self-quarantine for 14 days, adhering to anti-pandemic measures as required.
After returning to Vietnam, crew members are given health checks and quarantined as per regulations. The entire aircraft is to be disinfected, including the passenger compartment and cockpit, in accordance with international standards.
Previously, on the morning of September 25, VNA' VN416 flew from Hanoi to Seoul. Following six months of suspension, the resumption of international commercial routes, such as this one, serves to meet the increasing travel needs of passengers.
This marks a milestone in Việt Nam's air link resumption, as part of the Government's dual goals of developing the economy while safely managing the risks of COVID-19 in the new normal. The resumption of flights received a warm welcome from Vietnamese citizens in the RoK as well as Korean people, particularly business people and investors.
>> You may be interested in Asia reopening for tourism: Countries opening their borders
This affirms the airline's commitment to quickly and safely restoring international routes as the COVID-19 pandemic situation permits. VNA plans to resume flights between Vietnam and China, Taiwan (China), Laos, and Cambodia, as soon as approval is granted by the Government and authorities.
For Vietnam Airlines airticket booking office, please feel free to contact
(As Vietnam Airlines)