28 July, 2017
The photo shot, taken by John S Lander, depicting tourists in boats cruising admist colorful floating lanterns on the Hoai River in the World Heritage site of Hoi An in the central coast province of Quang Nam, has been named as one of the world's best travel photos by the U.S. news site CNN at edition.cnn.com.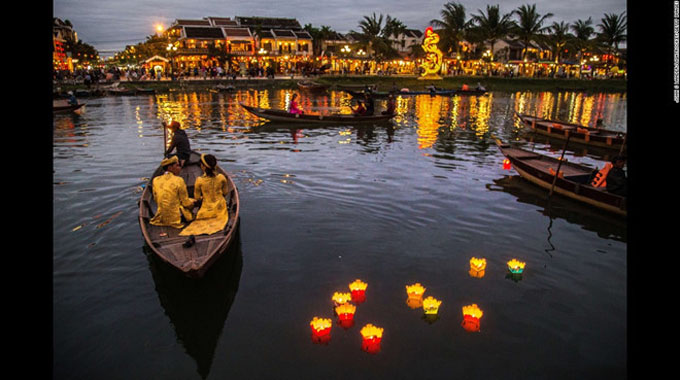 The site has recently released 57 travel photo shots featuring the stunning natural landscapes around the world, and the image of floating lanterns which are shining vividly on the Hoai River in Hoi An ancient city has captured the attention of a foreign photographer and taken the tenth position among 57 global best travel photos published by CNN.
The ancient city of Hoi An, which is better known as the Yellow City of Viet Nam, has recently been ranked seventh among the world's 15 best cities voted by readers of the U.S. travel site www.travelandleisure.com.
Hoi An, which used to be the busiest and most bustling trading port in Southeast Asia during a long period from the 15th to the 19th century, has become increasingly more and more appealing to not only local tourists but also expatriates longing for a place without earsplitting noises and with a tranquil ambiance and poetic landscapes.
The sightseeing spot is home to many craft villages producing such items as lanterns, mattresses, wood sculptures, conical hats, and embroidery products. It is where local and foreign travelers can purchase souvenirs in impressive and eye-catching styles to bring home as a gift for their families, relatives and friends and learn more about typical traditional crafts and cultural features of Hoi An.
For most visitors, when the central coastal town comes to mind, they imagine the colorful lights of lanterns in the traditional lantern festival which is held on the 1st and 14th days of each lunar month.
Thanks to the peaceful atmosphere without noise and pollution, the slow pace of life, hospitable locals and the cheap cost of living, the ancient town has been on the list of places worth living in Vietnam and might be a perfect destination for international photographers and art-lovers.