17 August, 2020
GoldenTour - Sick of the overcrowded beaches and perennially packed restaurants? From Sapa to Chau Doc, these 10 hidden resorts are the off-the-beaten-track escapes your inner recluse needs.
Resorts surrounded by mountains, terraced rice fields or golden beaches span the length and breadth of Vietnam, allowing visitors the chance to disconnect from the outside world.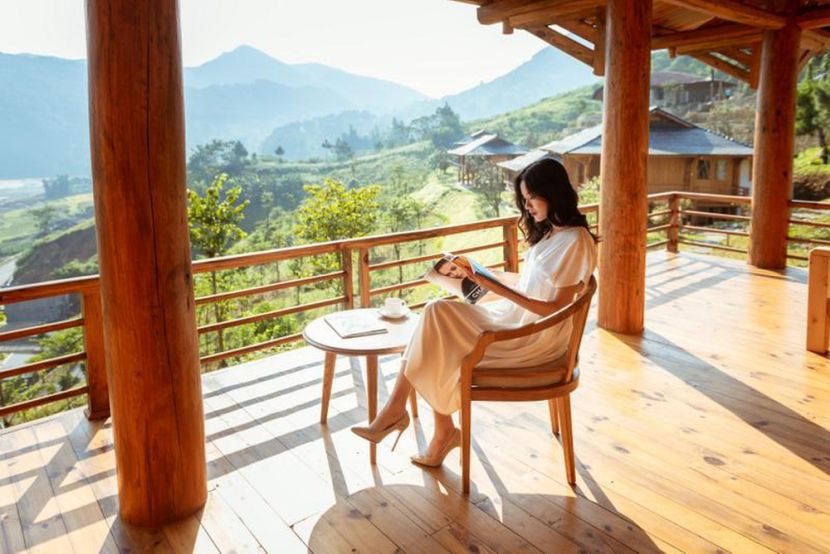 Le Champ Tu Le Resort Hot Spring & Spa ( Mu Cang Chai)
Located on a hill with beautiful views to green rice fields lies a small village with unique Thai architecture and culture in Van Chan district's Tu Le commune. In this village, people can find the stunning Le Champ Tu Le Resort offering its luxurious and high-end services to guests.
Known for its beautiful fields in September and October, Tu Le commune is one of the most famous attractions in the northenr mountainous province of Yen Bai. Now, its beauty is a blend of the simple local lifestyle and the modern facilities of Le Champ.
Le Champ Tu Le Resort Hot Spring & Spa is an outstanding attraction that tourists should not miss out when visiting Tu Le. The spa is located in Nuoc Nong Village with its famous hot streams, surrounded by 34 cosy bungalows. Each bungalow is built in a typical Thai style, standing on stilts and equipped with luxurious furniture inside to offer great experiences to visitors.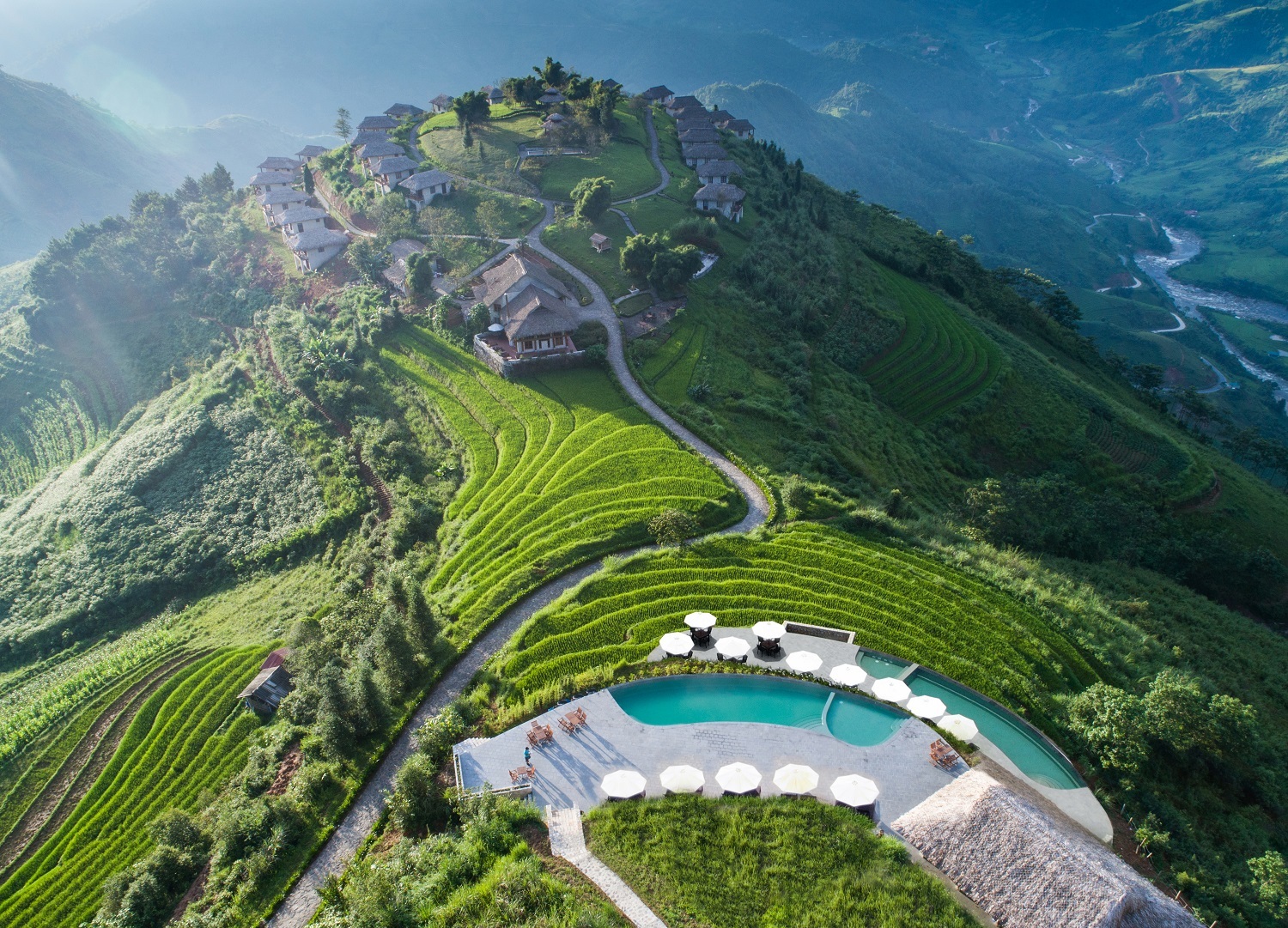 Sapa Topas Ecolodge
The mountainside resort lies 18 km from the center of Sa Pa Town in northern Lao Cai Province. It boasts an impressive infinity pool situated on a hill 900 m high.
Both pools at the resort utilize eco-friendly heating systems, with views over Hoang Lien Son range and surrounding terraced fields.
The view is also accessible from each of the resort's rooms. Prices here start from VND6.6 million ($285) a night. Photo courtesy of Topas Ecolodge.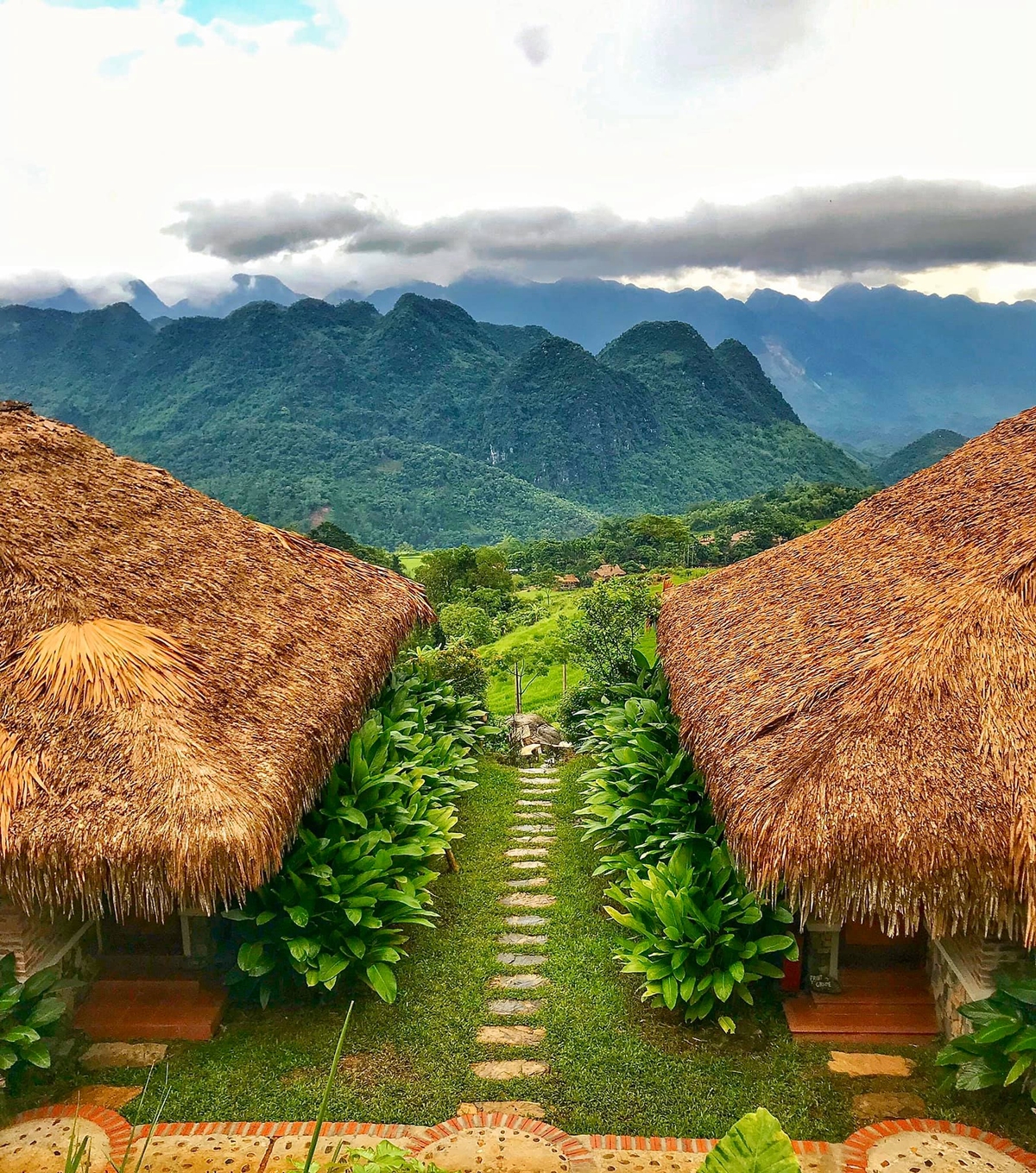 Pu Luong Retreat (Thanh Hoa)
Pu Luong Retreat is part of Pu Luong Nature Reserve in Ba Thuoc District, central Thanh Hoa Province, which awards visitors with similar majestic mountain views.
Amenities like TVs, fridges and modern entertainment services are not available but other experiences like meditation, yoga, spa retreats, a cycling tour and swimming definitely are.
A private deluxe room starts from VND2.4 million ($104) a night, but you can spend a fraction of that (VND350,000 or $15) staying in a stilt house. Photo courtesy of Pu Luong Retreat.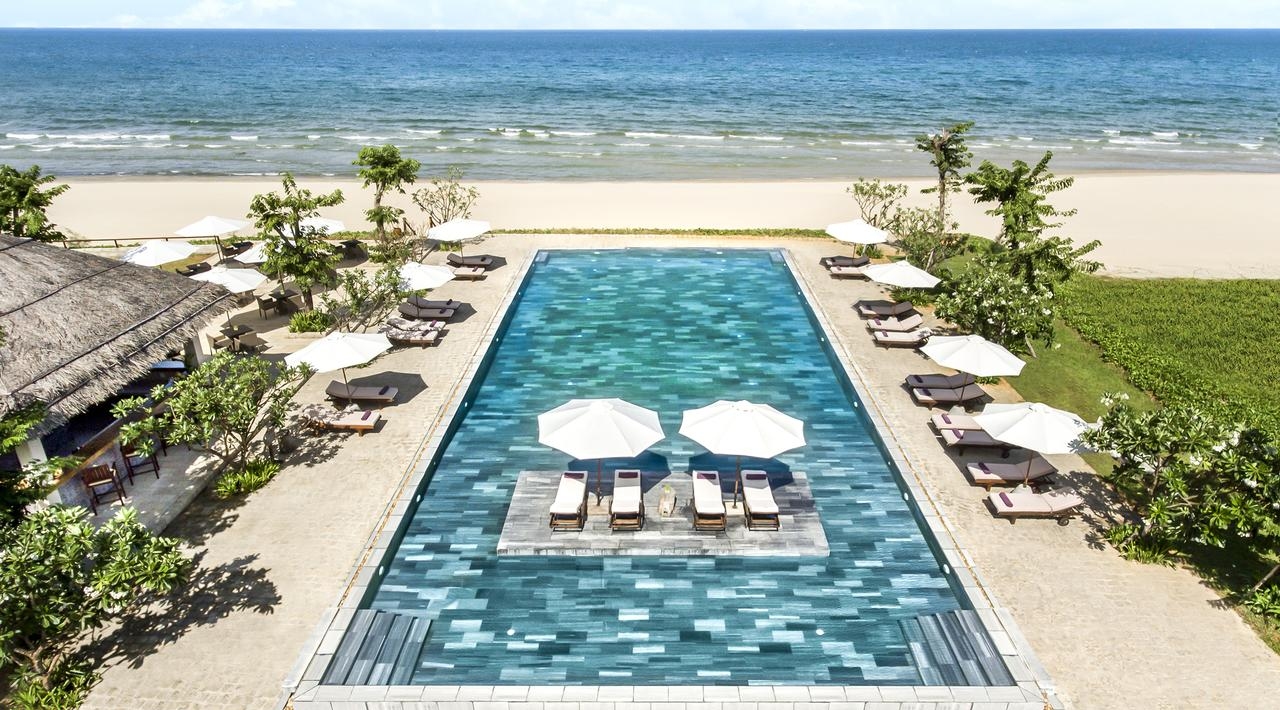 Crown Retreat Quy Nhon
About 25 km from Quy Nhon Town's center in south-central Binh Dinh Province lies a resort boasting 50 luxury European-style bungalows.
It covers the entire Trung Luong Beach and provides visitors the chance to explore nearby sights like Ong Nui Pagoda, featuring the tallest Buddha statue in Southeast Asia. Room prices start at VND2.5 million ($108) a night. Photo courtesy of Agoda.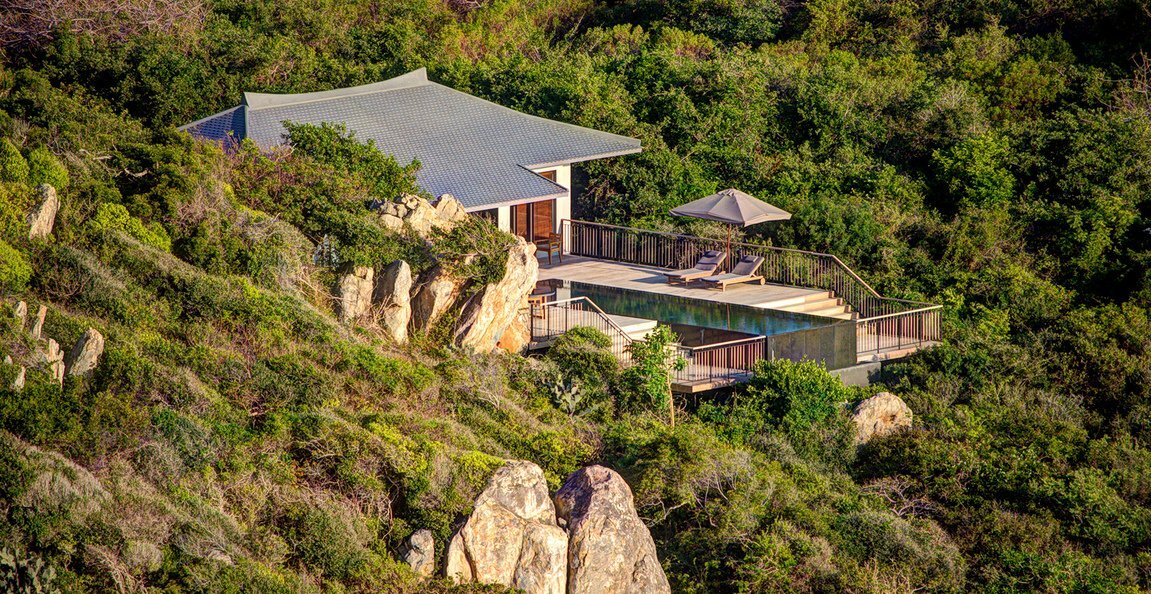 Amanoi Ninh Thuan
The resort is nestled in the biodiverse conservation area of Nui Chua National Park beside Vinh Hy Bay in south-central Ninh Thuan Province. This first six-star resort in Vietnam is fully equipped with luxury services including infinity swimming pools, a spa, tennis court, bar serices and Asian - European menus.
Its location comes with an expansive view of the surrounding nature. The beach is not far from the resort either. The cheapest accommodation is VND16 million ($690) per night. Photo courtesy of Amanoi.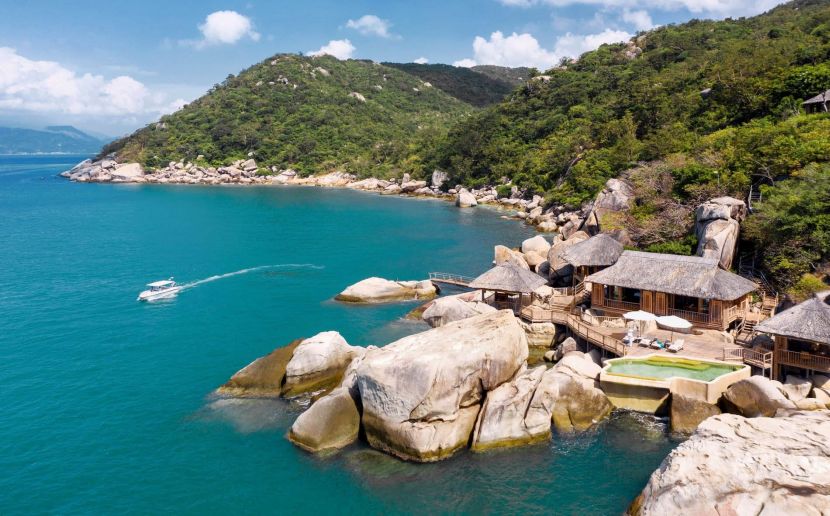 Six Senses Ninh Van Bay
In need of a little rescue? Isolated in a crescent-shaped bay accessible only by boat, the rustic yet undeniably luxurious Six Senses Ninh Van Bay boutique retreat near Nha Trang offers the weary a total reality break. Villas with decks over the sea, outstanding cuisine, butler service and the chance to dive, spa or simply laze will have you rejuvenated in no time.
The reality is that Six Senses Ninh Van Bay sits on a dramatic bay looking out to the East Vietnam Sea so it can only be approached by water. Impressive rock formations, white sand beach and a backdrop of towering mountains add to the fantasy. You can't be more intimately at one with nature.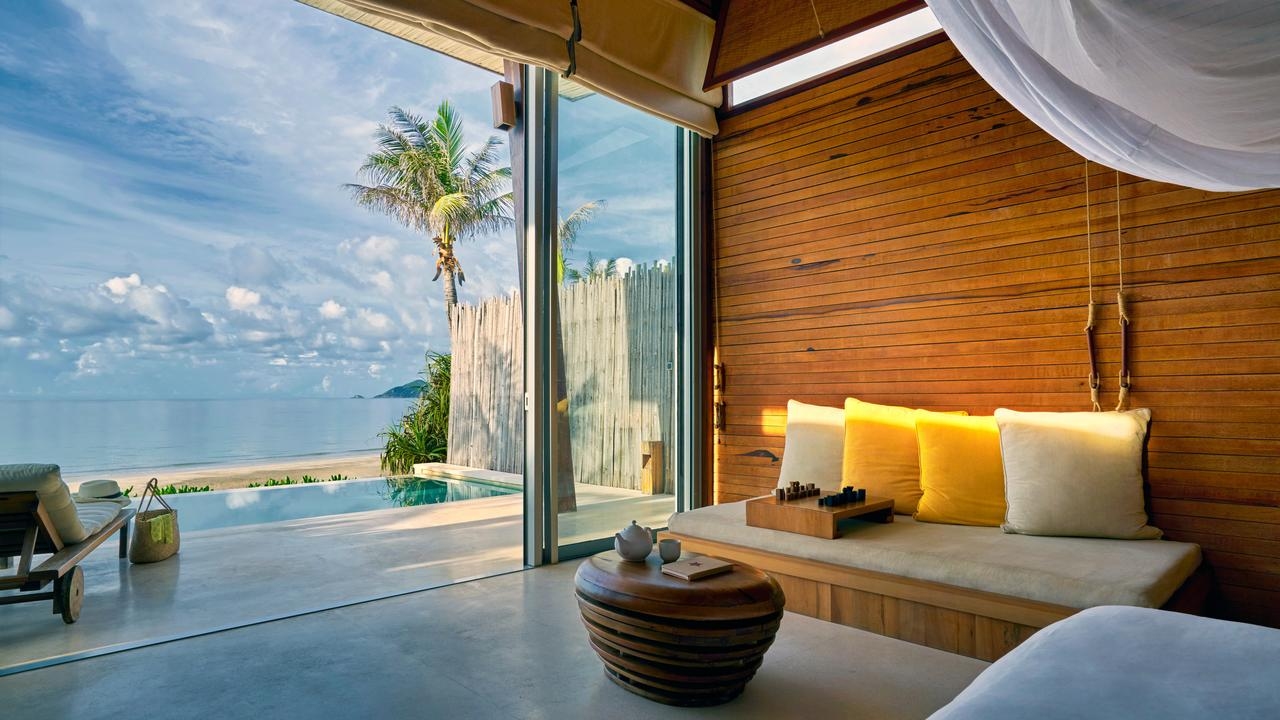 Six Senses Con Dao Island
The resort boasts 50 villas, two restaurants, and two bars alongside other amenities across its complex located near Con Dao National Park in southern Ba Ria - Vung Tau Province. It is an eight-kilometer distance from Con Son Airport.
Visitors can indulge in the immense forest landscape at the back and golden beach at the front. The rooms, the design of which resemble traditional fishing village abodes, all have ocean views.
Visitors can also go on trekking trips to explore the national park and help release turtles back to the sea safely in the summer. A room per night starts from VND14.6 million ($630). Photo courtesy of Agoda.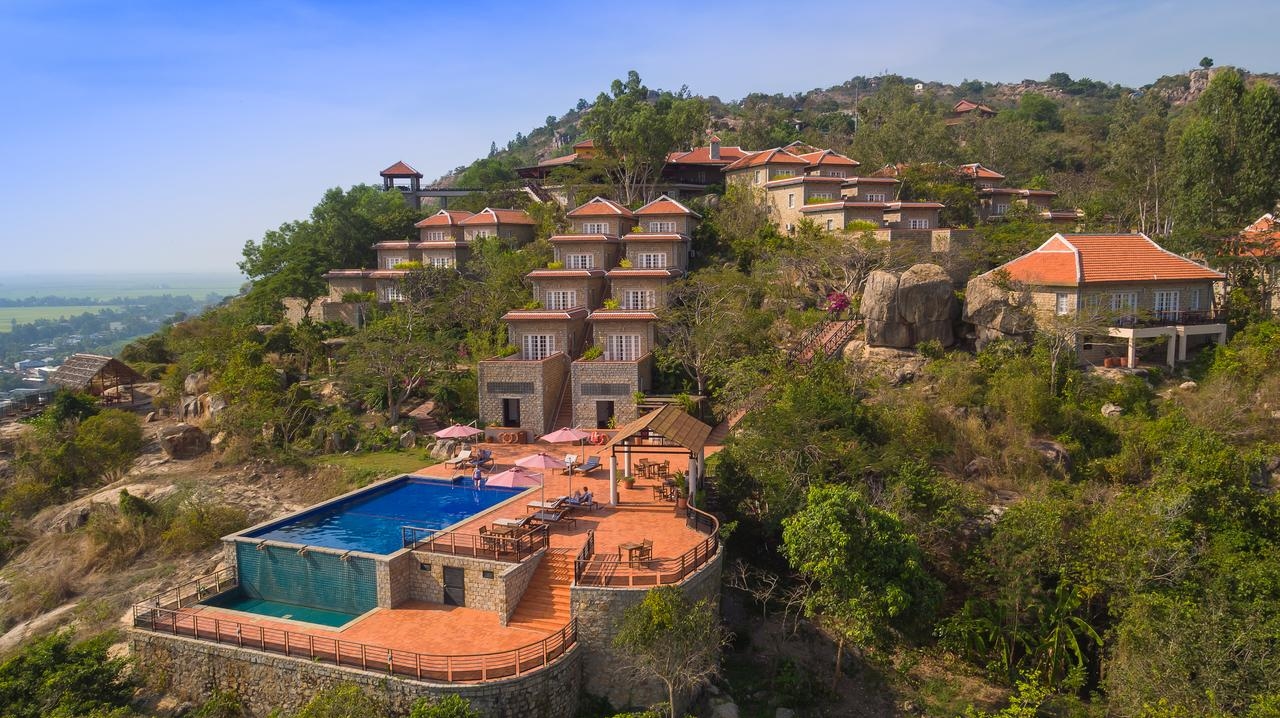 Victoria Nui Sam Lodge (Chau Doc)
It might look like France but it is not. Located on Sam Mountain, the resort is about 10 km from Chau Doc Town's center in the Mekong Delta province of An Giang.
The resort's architectural style resembles modern houses on the Côte d'Azur coastal area in southeastern France, with a swimming pool facing rice fields and a dining area designed for optimal sunset viewing. A room starts from VND1.5 million ($65) per night. Photo courtesy of Victoria Nui Sam Lodge.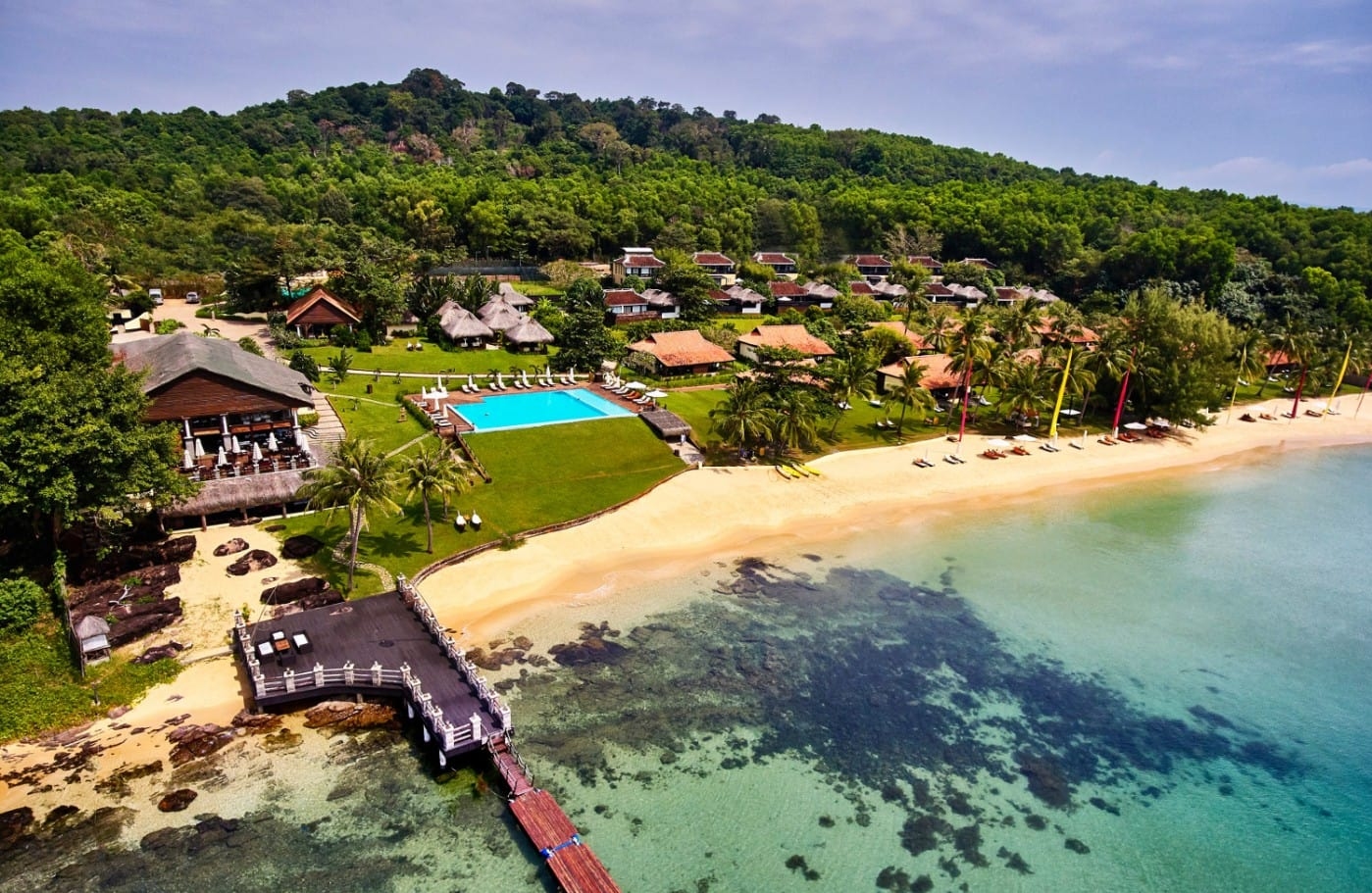 Chen Sea Resort (Phu Quoc)
This resort is located on popular Bai Xep Beach of Phu Quoc, Vietnam's largest island. It features 36 villas along the coastline.
On top of typical resort amenities, Chen Sea also offers sailing, windsurfing, and kayaking. Room rates start from VND3 million ($129) per night. Photo courtesy of Chen Sea Phu Quoc.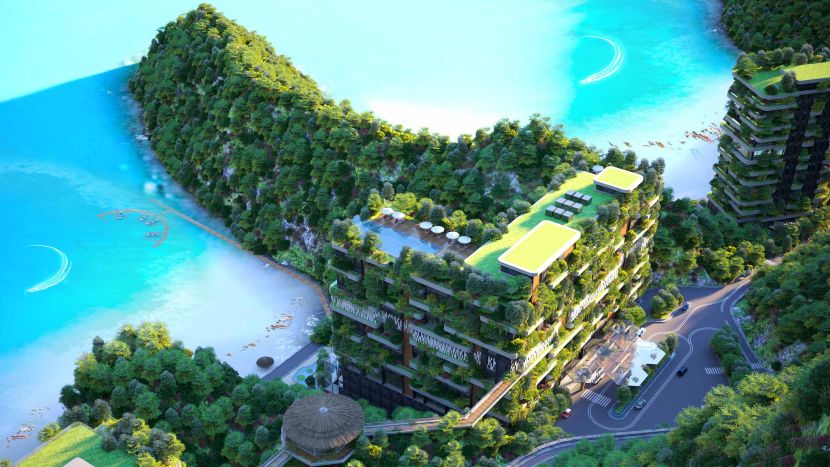 FLAMINGO CAT BA BEACH RESORT - FOUR SEASONS SYMPHONY
Flamingo continues to bring new super project in Cat Ba - Flamingo Cat Ba. Built on the international 5-star standard and owned by world-class chain of restaurants, Flamingo Cat Ba Beach Resort has attracted the attention of customers since the announcement.
Full of biodiversity and embrace the two most beautiful beaches here: Cat Co 1 and Cat Co 2 - which are known as paradise beachfront resort, full of mountain and Lan Ha bay. It is not wrong to say Flamingo Cat Ba Beach Resort occupy the most unique position Cat Ba.
Source: e.VnExpress.net