GoldenTour - HCMC-based photographer Cao Thi Ngoc Diem captured the colors of traditional craft villages across the country.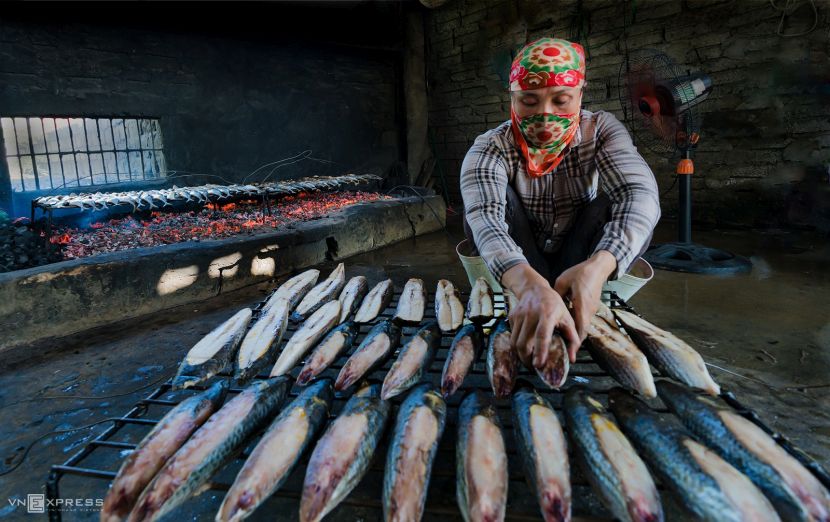 A woman prepares grilled fish in Quynh Luu District of central Nghe An Province, home to about 50 fish baking households.
Fresh mackerel and herring are collected, cleaned and arranged in rows on grills before they are baked with charcoal. Each batch of fish is grilled for 10 - 15 minutes.
Each day residents grill 100-300 kilograms of fish, bringing in an income of nearly VND200,000 (8.7) per person.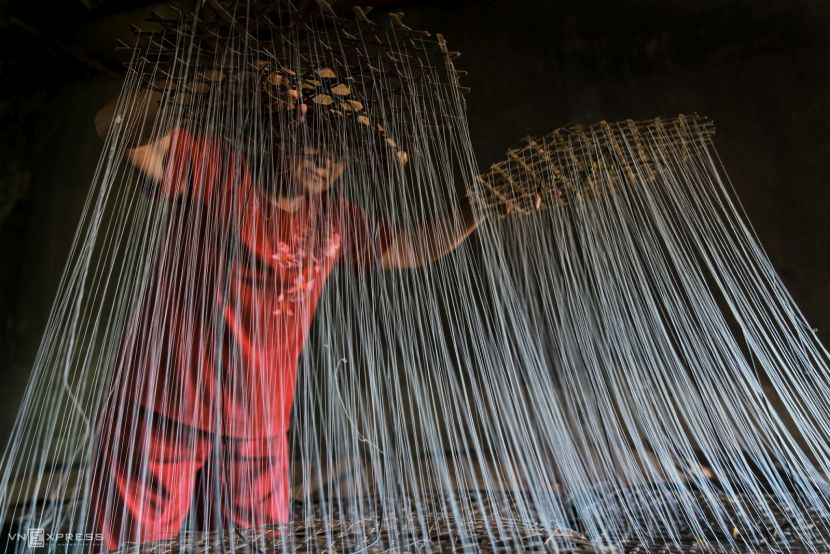 The profession of making sugar candy, a famous specialty of Nghia Duong Commune in central Quang Ngai Province.
This type of sugar is crystallized like quartz bars.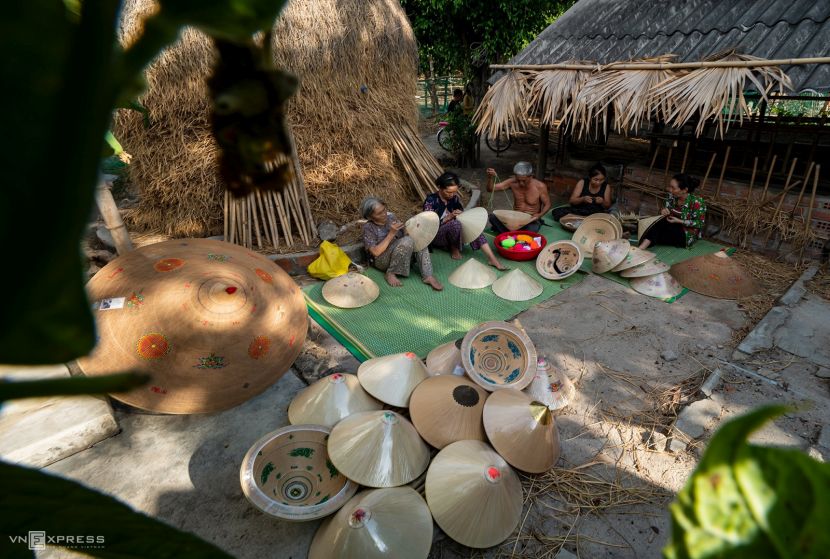 At the 300-year-old Phu Gia Village in Cat Tuong Commune of central Binh Dinh Province, about 320 households of 700 members make horse hats, once an indispensable accessory for court officials.
Making a horse hat requires many meticulous steps, from creating ribs and tying ribs to embroidering patterns. Artisans embroider patterns based on dragon, unicorn, mandarin, phoenix, plum, orchid, chrysanthemum, bamboo and poetry themes.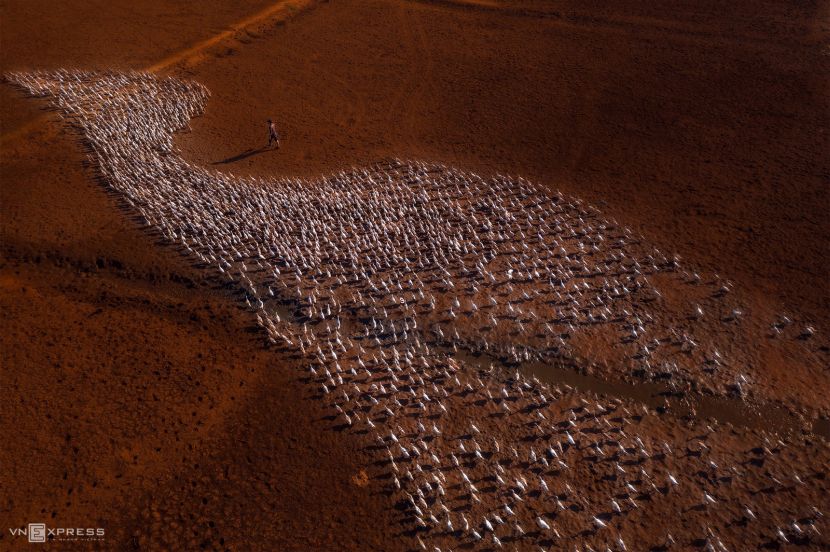 Duck herding at Tra O Lagoon in Binh Dinh, home to popular beach town Quy Nhon.
Raising ducks for their eggs on fields is popular in many rural areas of the country, helping many households save on the cost of buying food, thereby increasing profits.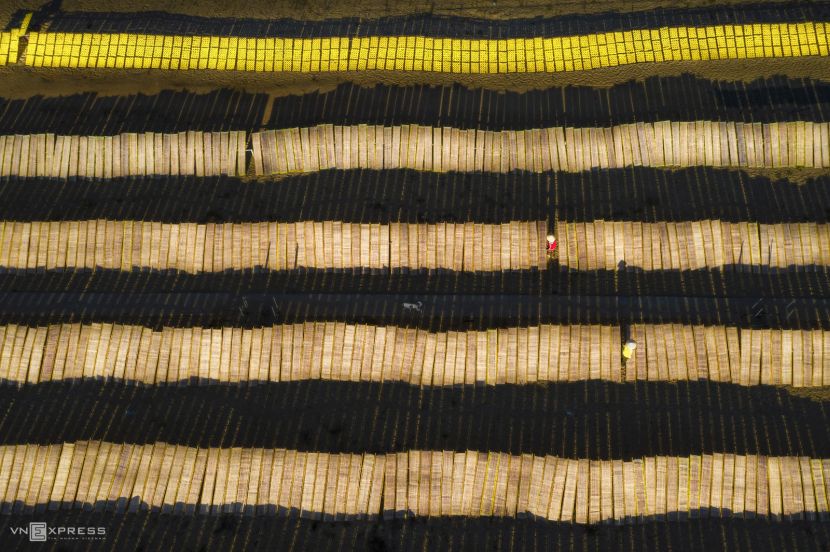 Binh Dinh is also famous for dried noodle making in An Thai Commune. These noodles are distinctively tasty and highly nutritious since they are made of peas.
Near Tet, Vietnam's biggest holiday that peaks on Feb. 12 this year, the village is busier than ever trying to meet growing demand.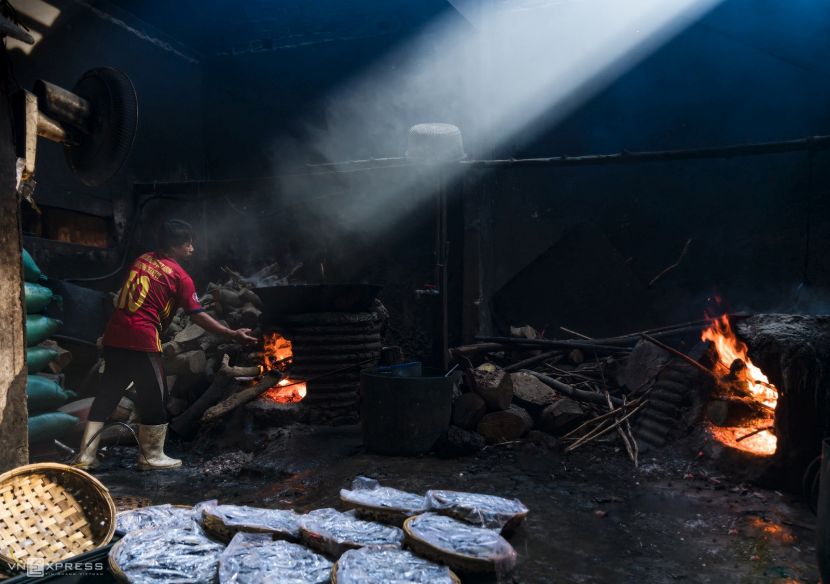 Quy Nhon is home to a fish-steaming village dating back more than half a century, which is near a fish market located along Ham Tu Wharf. Boats carrying fresh fish are typically operated by families involved in the steaming business.
After cleaning and preliminary processing, fish are put in an oven with boiling water. The steamed water is specially formulated to ensure the rich taste of marine fish. The period of steaming is also rationally adjusted to ensure the meat is chewy and delicious.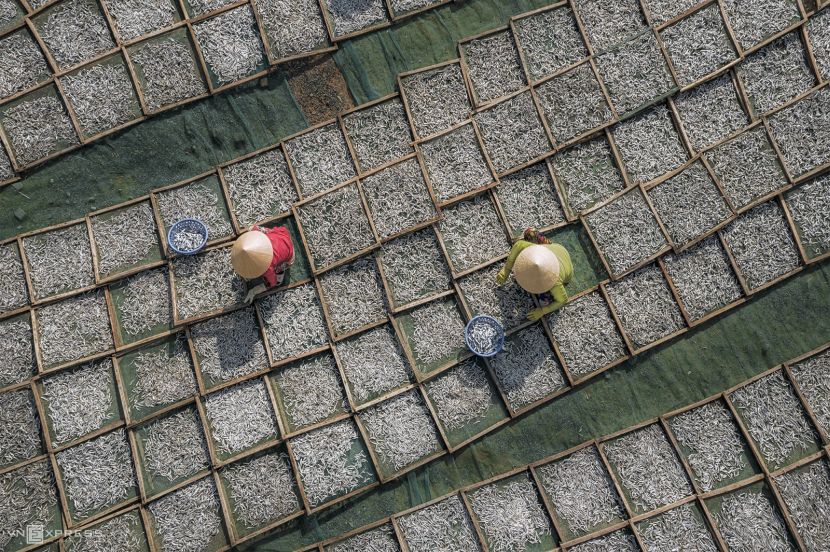 Besides salt harvesting, central Ninh Thuan Province is famous for anchovy-making in Ninh Hai District.
This village is located on the road to Vinh Hy Bay - Binh Tien, about 20 kilometers east of Phan Rang-Thap Cham, the provincial capital. Along both sides of the road, visitors can see anchovy blisters dried in rows, a distinctive local feature.
Anchovy harvest season lasts from April to August every year. After being caught, the fish are soaked in salty water, then dipped in the oven for about five minutes before being dried. After four to five hours of drying in the sun, the anchovy blisters are picked before weighing and packing to be sold off.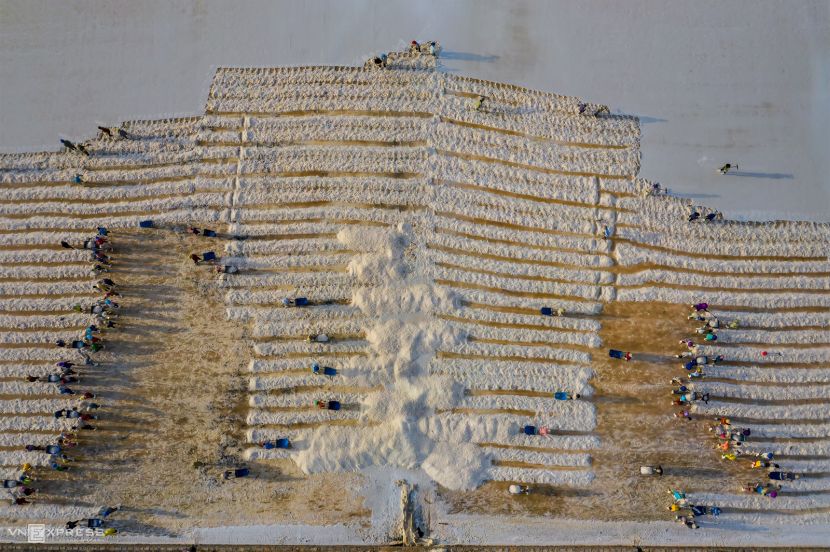 Visitors to Ninh Thuan can experience salt harvesting in Ninh Hai District.
Working on salt fields is a strenuous job. Workers first have to store water, prepare and clear the ground for the drying process and let saltwater into the field.
During the annual salt making season from January to June, workers start their day at 4 a.m. and try to finish as soon as possible to get away from the scorching sun.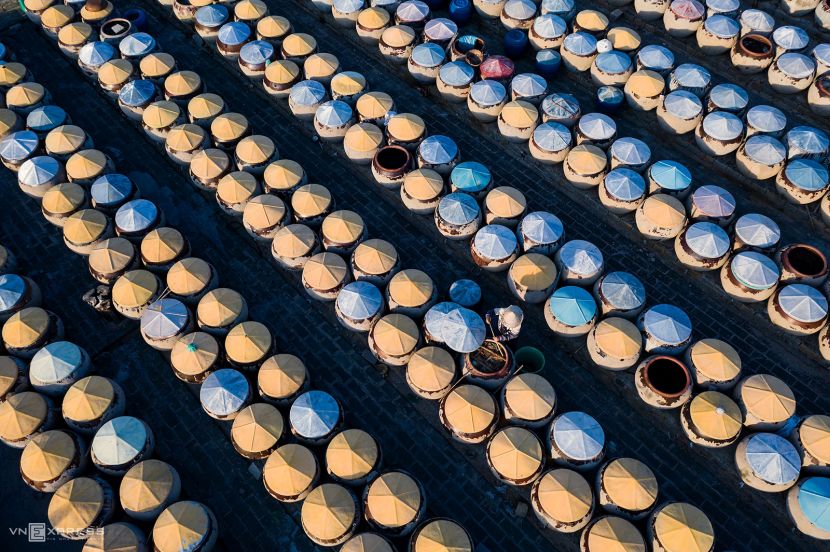 Phan Thiet, a coastal town in Binh Thuan Province, which neighbors Ninh Thuan, is home to villages that have produced fish sauce for decades, namely Thanh Hai, Phu Hai, Duc Thang and Ham Tien. The main ingredient to make fish sauce is anchovies.
In addition to making fish sauce in a tent, Phan Thiet fish sauce is also brewed in a jar.
Phan Thiet salt with a high concentration of pure, high salinity helps keep fish from rotting and produces high-quality fish sauce.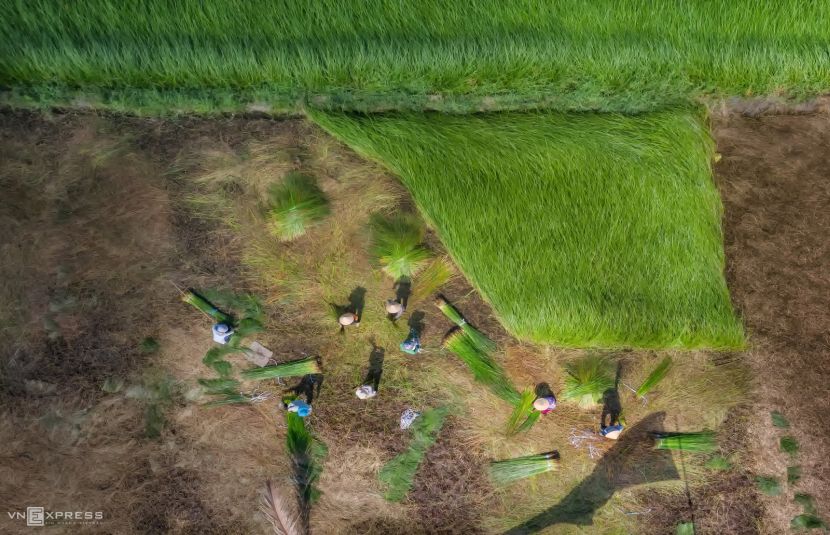 Workers harvest Lepironia articulata grass on a field in Vung Liem District of Mekong Delta province Vinh Long.
Lepironia articulata grass is widely grown by farmers, replacing traditional wet rice in Vung Liem.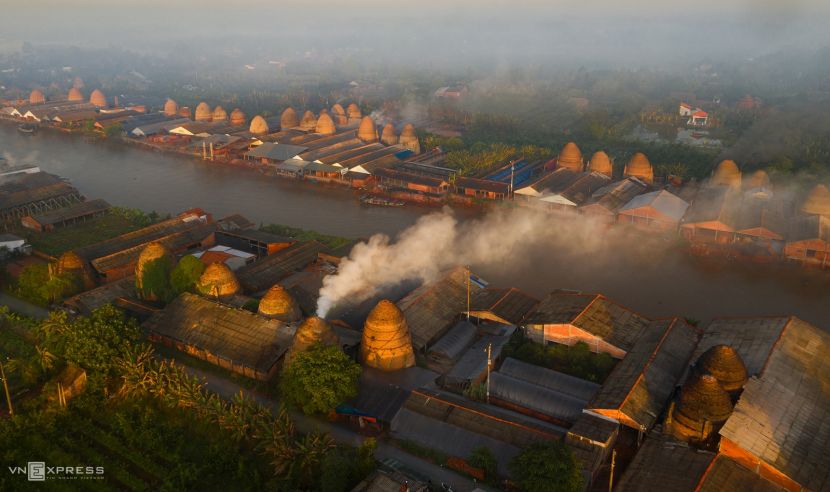 Located across a canal in Mang Thit District of Vinh Long Province, this century-old village is known as the biggest and most famous brick manufacturer in the Mekong Delta. Around 1,300 kilns remain in operation, spread across a total 3,000 hectares.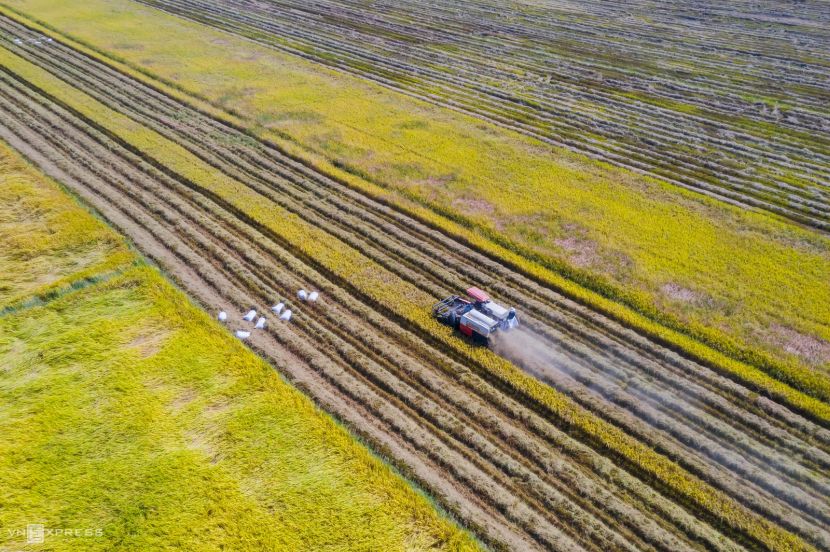 Rice is harvested using a combination reaper in a Co Do District field to the west of Can Tho City in the Mekong Delta.
The nation's most fertile region, the delta has been called Vietnam's rice basket. It is also the country's aquaculture hub.
Source: E.VnExpress.net