Hai Van Pass had been selected as one of the most beautiful stretch of beach road in the world. Go backpacking Hai Van Pass by motorbike is an amazing experience that toursits should not miss when to Danang.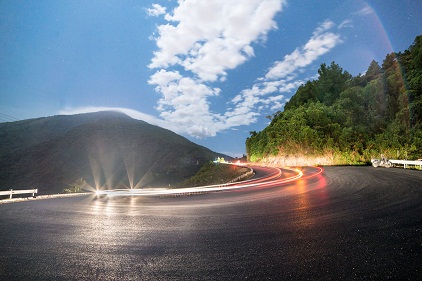 Hai Van Pass is located at an altitude of 500 meters above sea level, with a length of about 20 kilometers, linking Lang Co (Hue) and Danang. To go backpacking Hai Van Pass by motorcycle, the backpackers must pass road with adventurous bends but extremely interesting. Here are some experiences to go backpacking Hai Van Pass by motorbike.
Means of transportation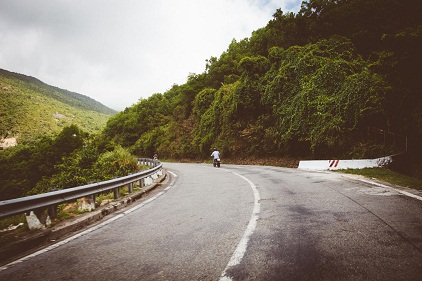 In Danang there are many places to rent a motorbike, cost about $ 6-7 / unit / day, the procedure is quite simple and quick. Let's rent a motorcycle and immediately begin the journey to explore the Hai Van Pass.
When to go
Hai Van Pass is best from April to july. From August to November, the weather is often rainy, road has foggy
Journey to go backpacking Hai Van Pass by motorbike
Crossing the Hai Van Pass is adventure to experience the wind clouds, admire the beauty of the majestic mountains, vast sea of ​​colors from turquoise, emerald to blue, dark blue …. The stretch of road as soft silk, stretched over Pass, perched at straight time, flexibility.
Go backpacking Hai Van Pass by motorbike on the way, you can release cheered, admiring the majestic beauty of the mountains and rivers, sky, admire the legendary mountain. You can stay anywhere. There are a few key points you can stop to admire, take photograph.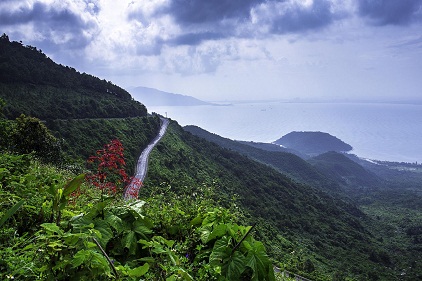 A quite big rocks, located along the road towards the sea. There is drinking water service, and we also prepare a rope to help you climb the rocks. Standing on a cliff overlooking the panoramic sea will fully experience the open space of the earth and sky.
Close to the top of the pass will have a blend. This place almost everyone come to take pictures. This segment is quite large, there is a convex mirror. But when take pictures you should pay attention to signals that the vehicles coming from the mirror
On top of the pass have Milestones of the territory of Danang and Hue. This place is quite large, with a few small shops for you to drink water, rest, while they can buy items. There are still traces of a gate called Hai Van Quan, built from the Tran, was rebuilt in the reign of King Minh Mang – the Nguyen and several bunkers (ruins of Don Nhat) by French troops built in 1826 to protect this strategic passes. In bunkers, you can capture the Hai Van road behind your back with the beautiful frame.
After a rest, take photos, you continue the journey to the end of the pass. On the way down to reach the beautiful Hue, you will see green trees among railway winding through the pass by the French built.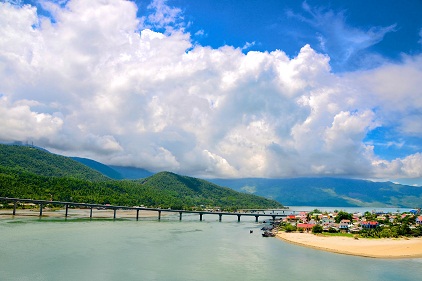 Sometimes you will encounter a colorful boat. Close down the pass, photos of beach and Lang Co fishing village appears. It had several small boats anchoring. Also from here, you can also enjoy bridge with beautiful Hai Van tunnel. Continuing the journey you can visit interesting places of Hue.
Go backpacking Hai Van Pass by motorbike is an extremely interesting experience. You'll be experiencing all emotions from anxiety, little fear to surprise and delight.