Hoang Yen Chao Castle is a unique architectural construction combining Eastern style and Western style. Built in the 20th century, it belongs to Na Hoi Tho Village, Bac Ha district. Its proximity to Bac Ha Market (only 300m away) makes it increasingly popular in the recent years.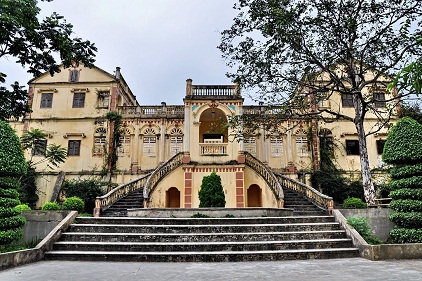 The castle was built as the resident of Hoang Yen Chao, and later, his son Hoang A Tuong. With two-floor architecture, it also functions as a fortress. The castle possesses a vital location that enables its residents to influence and control the whole Bac Ha valley. From afar, you can easily notice the white castle standing vividly against the blue sky and the green fields of Lao Cai.
High fences, blockhouses and deep trenches, as well as invincible defending towers used to protect the castle from the enemies in the past. Unfortunately, time has swiped away those wonderful features. However, you can still see the system of dangerous strap full of spikes built around the castle (caution: they are real!). After strolling around the construction, make sure that you go inside and take a look at all the vestiges that survive the destructive flow of time!