If you want to find somewhere to relax and have fun, going to mud baths should be preferred. Sitting in a tub of mud feels as odd as it sounds, but it has become a quintessential Nha Trang experience. The most popular mud baths is Thap Ba Hot Spring.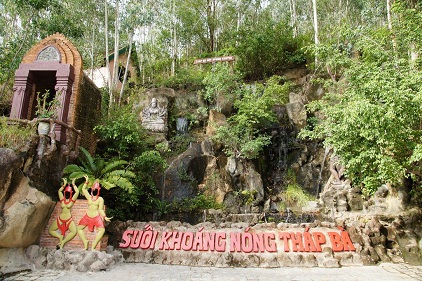 What is a mud bath?
Mud bath is soaking in a bath containing mineral mud. Mineral mud is a natural mud formed from the change of geology, mineral mud derived from plants such as trees, flowers; grass buried or from land created mineral mud.
Mineral mud includes ingredients: organic, inorganic, carbon-containing substances and easy to absorb water. It can treat a number of diseases such as chronic arthritis, tuberculosis, insomnia, sciatica, stress, psoriasis. Besides that, mud bath therapy also adjusts endocrine disorders, makes beautiful skin and smooth, youthful and toned.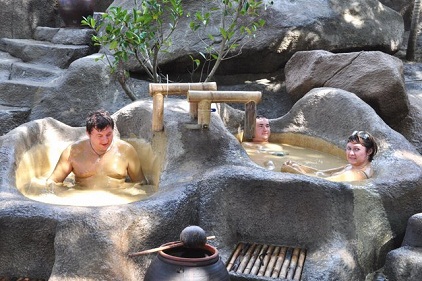 Enjoy mud bath at Thap Ba Hot Springs
The Thap Ba Hot Springs Center, located behind the Ponagar Tower, claims to be the first in Vietnam to offer hot spring and mud bathing.
The inorganic mud comes from rocks and volcanic ash and is claimed to be both effective physical therapy and a cure for complexion problems. Proponents of hot spring baths also say they help cure inflammations and fix endocrine disorders.
The mud used at the center is pumped up from underground into small pools then mixed with mineral water piped in from the Vinh Phuong Commune some four kilometers away.
Before immersion in the mud, visitors are advised to bathe in hot water. The mineral water can be as hot as 40 degrees Celsius before it is sprayed onto guests
After bathing, guests enter wooden tubs and soak in the mud before taking a long sun bath that bakes the mud into a crusty shell. The mud-bather then drops back into the some mineral water for a much-needed cleansing.
To achieve high efficiency mud bath, do not shower with cold water, and especially the shower with soap will wash away layers of mud minerals remaining on the skin, reducing the effectiveness of mud. In people with acute heart failure, while soaking the body can cause up reactions such as fatigue, stress, insomnia, dizziness. It should be noted temperature, bath time a different person. After each soaking the whole body should dry and rest 10-20 minutes