19 December, 2022
Ninh Binh province has long been a favourite for tourist travelling around Vietnam. The unique landscapes of towering limestone cliffs emerging from the flatlands are incredible. Climbing 500 stairs in the sweltering heat and humidity is instantly worth it when you lay your eyes on the 360 degree views from the top of Mua Cave Ninh Binh
The highlight of this region has to be the view from the top of Hang Mua Peak, or Mua Mountain, as it is sometimes known. Climbing 500 stairs in the sweltering heat and humidity is instantly worth it when you lay your eyes on the 360 degree views from the top of Mua Cave Ninh Binh. Along with the Ha Giang Loop, this was one of our favourite adventures in Vietnam and one that should make it onto your Vietnam itinerary.
Only a couple of hours from Hanoi, this part of Vietnam has been likened to "Ha Long Bay on land." Hundreds of limestone cliffs tower above the surrounding villages, rice fields and rivers. The landscape and scenery here are insane, and while it's awesome to see these limestone cliffs from ground level, they look even better from above.
Standing at the top of Hang Mua Cave and seeing the cliffs emerge from the ground all around you is a special experience, especially at sunset. Watching the sun go down and bathing the jagged peaks in golden light is breath-taking. Having completed the Poem Mountain hike in Ha Long City, which allows you to see Ha Long Bay from above, it was cool to see a similar setting surrounded by land rather than water.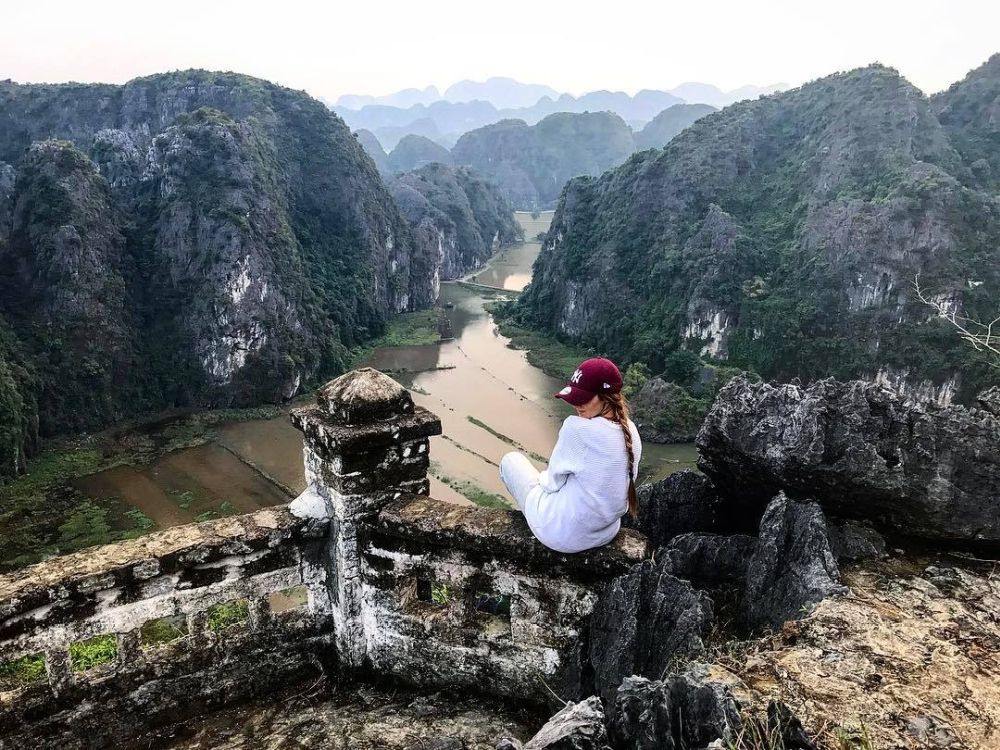 Getting to Mua Cave in Ninh Binh
Tour from Hanoi
There are plenty of options to come and visit Hang Mua Peak from Hanoi. One of the best and easiest option is to go on a day tour from Hanoi. Tour companies will pick you up from your accommodation in Hanoi, drive you down to the Ninh Binh region to see the main attractions (including Mua Cave), and then take you back to Hanoi.
Public Transport from Hanoi
We found the simplest way to get from Hanoi was to take a bus. This was a fairly cheap and easy way to get to Ninh Binh, with public bus tickets costing around 70,000 VND ($3 USD). To get the public bus you will need to take a Grab taxi to the bus station and buy your ticket there.
There are also several bus companies that will pick you up from your accommodation in Hanoi. These are slightly more expensive but much more convenient.
Rent a Scooter or Bicycle
Most people will come and stay in Ninh Binh or Tam Coc for a couple of days in order to fully explore the region. We stayed in nearby Tam Coc and rented a scooter for the day which generally costs about 100,000 VND ($4.30 USD). The drive to Mua Cave takes around 15-minutes.
Bicycles are a cheaper option as they cost 50,000 VND ($2.25 USD) per day and some accommodations even offer free bicycles.
Hang Mua Entrance Fee
The entrance fee to Mua Cave is 100,000 VND ($4.30 USD) per person and if you drive a scooter here then there is a fee of 10,000 VND for parking. Entrance is free for children who are under 1 metre tall.
Beware of scammers a few hundred metres before you reach the entrance. Several ladies stepped onto the road, while blowing their whistles to stop us, told us we had to pay to park on their property and that there was no parking further up the road. You can drive right passed these people to the actual entrance and park there instead.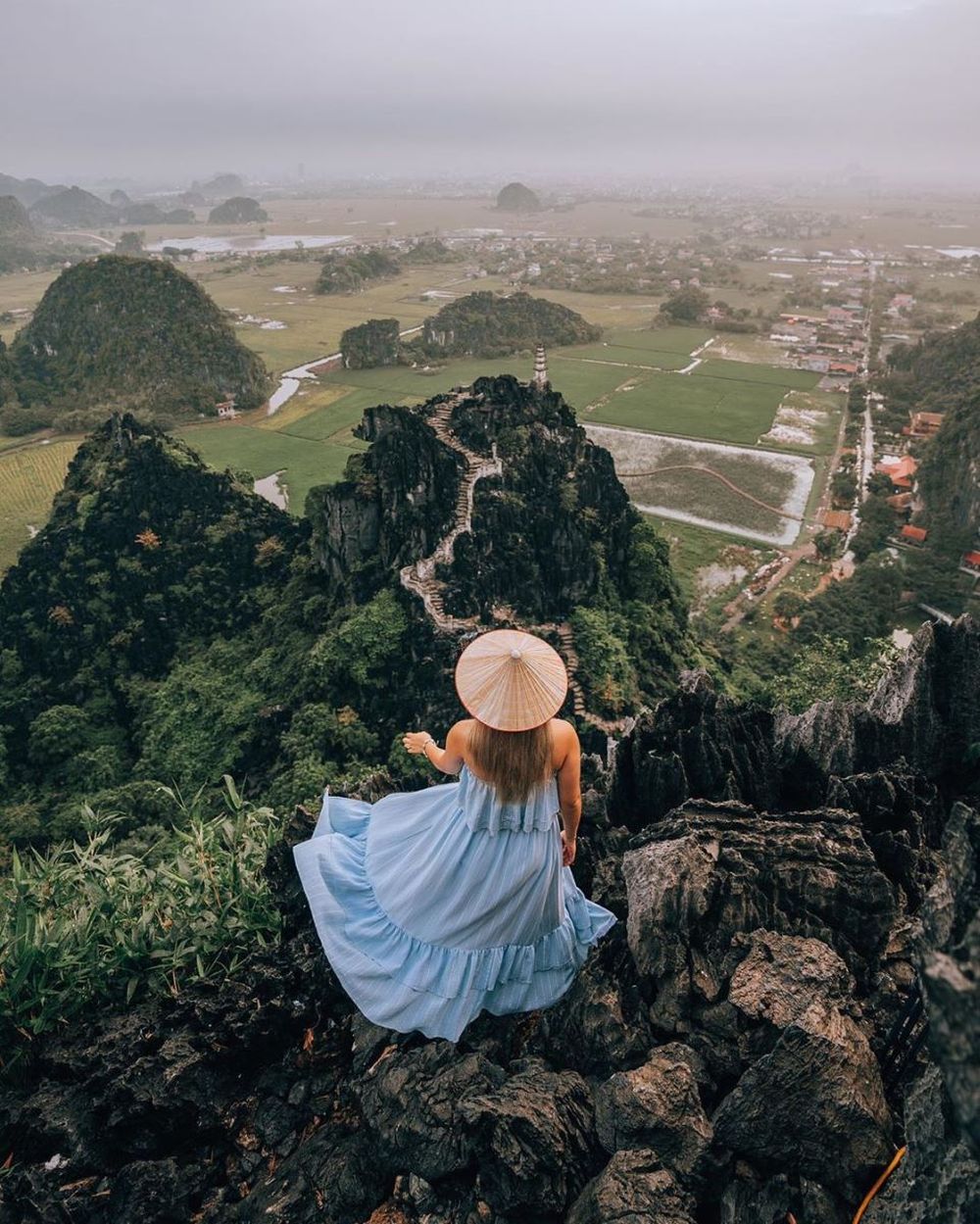 Mua Cave Ninh Binh
To reach the cave and the stairs leading up to the peak, you have to pass through Mua Cave Ecolodge. One of the main reasons that people stay here is that you can get to access Hang Mua Peak at any time and can often beat the crowds. When we went it was quite busy, and we can see the appeal of having the views at the top with very few others around.
The lodge has a few shops where you can buy water for the hike ahead (you'll need it), some snacks and souvenirs. There is also a restaurant where you can grab a bite to eat after your hike. As you walk along the decorated pathway and passed the shops, you may notice it is a little bit tacky, but the views at the top are totally worth it.
The cave that this area is named after, Mua Cave, is located at the base of the mountain and, in all honesty, isn't particularly impressive. We stuck our heads in to have a quick look around after the hike and it's kind of cool, but not going to knock your socks off. It's all about the hike to the top.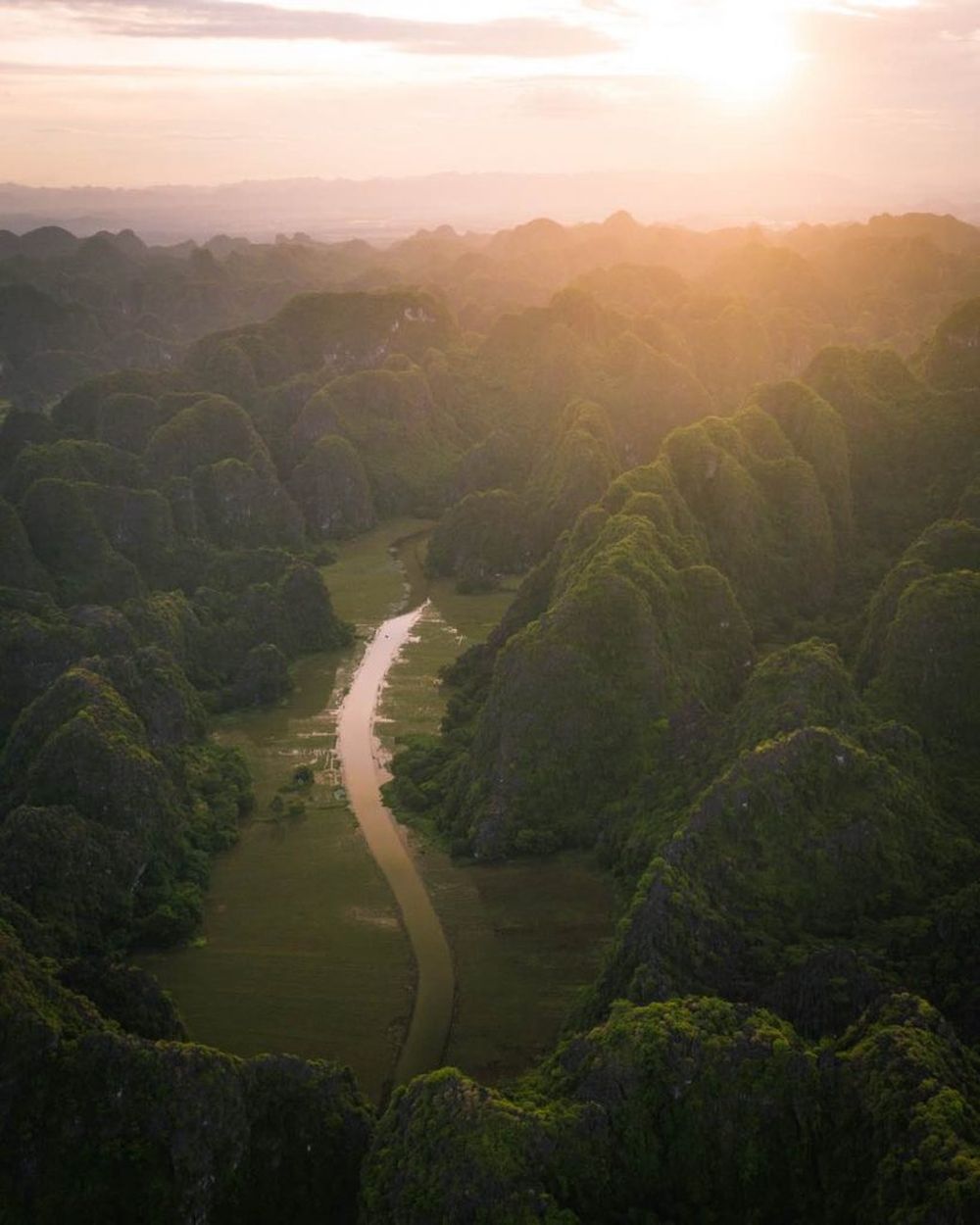 Hiking Hang Mua Peak
Calling this a hike is a bit of a stretch, as it is a short climb up the stairs to the top and like many others, I managed to reach the top wearing flip flops. To reach the top takes around 30-minutes based on your level of fitness and it is straight up the stairs the whole way. With 500 stairs to reach the top, you will feel the burn the next day.
While it isn't a super difficult hike, it is made much tougher by the heat and humidity. We went to watch sunset from the top and this meant climbing up in the sunshine. Even in the late afternoon this was tough going and we had to stop regularly to drink water. Around halfway up there is a small shop selling water and snacks which is perfect if you need to take a short break.
There are actually two separate peaks which you can access and we recommend going to both. Luckily, it splits close to the top with around 100 more steps to go. This makes it relatively easy to climb to both peaks and enjoy the different views.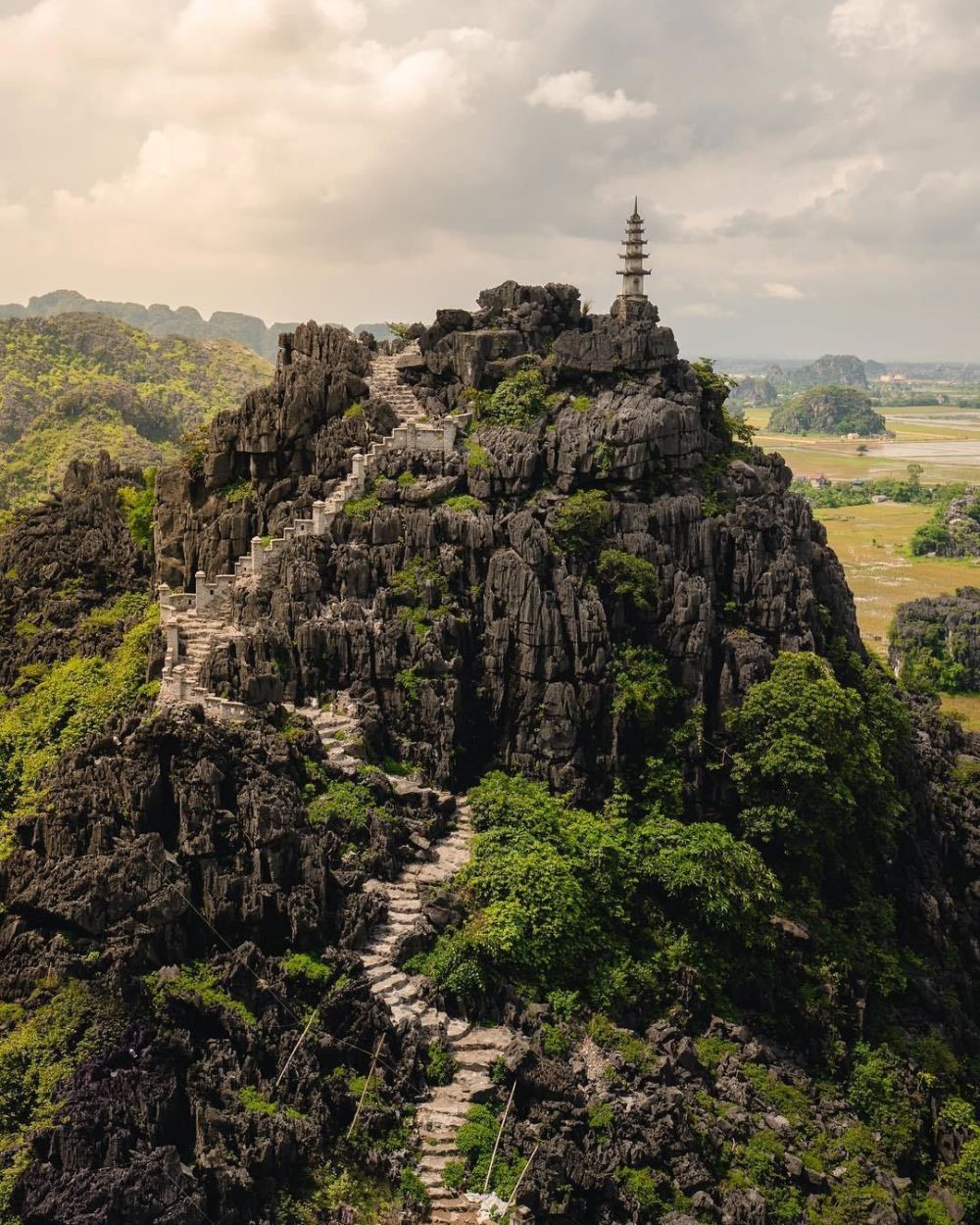 Main Peak
The main peak, which the majority of people climb to, is the staircase to the left as you are going up. This takes you to the main peak with the famous dragon statue at the top. Hence, one of the many names of this peak is Dragon Mountain Ninh Binh. The views from the top are ridiculous.
You can see for miles in every direction, and having seen Ha Long Bay from above, it's easy to see why people refer to this place as Ha Long Bay on land. Hundreds of limestone mountains protrude from the earth and are dotted along the landscape as far as the eye can see. It really is one of those next level views, like the hike up Poem Mountain.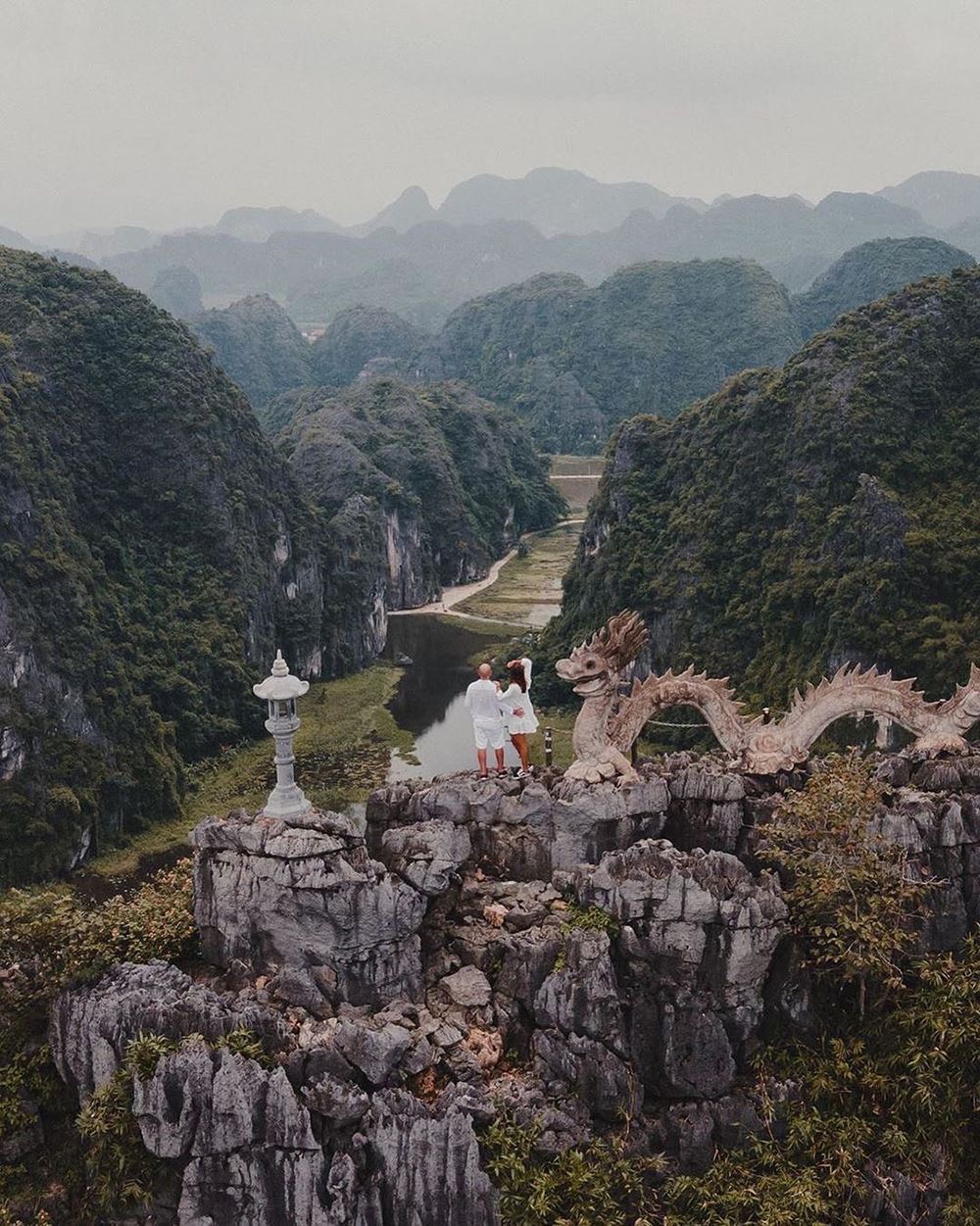 As if it wasn't pretty enough already, there is a river that winds right through the heart of all the limestone cliffs. It flows right passed the bottom of the viewpoint and disappears behind one of the mini mountains.
If you are staying in Tam Coc and doing the boat tour from the town centre, you will ride along this river. When we passed the mountain the lady paddling our boat pointed out the famous "Ninh Binh Viewpoint" and told us we had to go there.
While the views are incredible, it's worth knowing that it will be extremely busy. There were probably at least a hundred people at the main peak the day that we visited, although there were much fewer at the second peak. Multiple different viewpoints spread throughout the main peak do mean that it's easy to take in the views. However, it can be tricky to take that perfect photo with nobody else in it. We also tried to climb up to where the dragon statue is but it was completely full and we had to turn back around.
Having said all that, even with the crowds, it is absolutely worth going to. Watching the sun go down with a backdrop this pretty is hard to beat. If you are in Vietnam, you need to make sure you visit Hang Mua Cave Ninh Binh.
Second Peak
When we arrived at the top of the second peak (go right when climbing the stairs), we were pleasantly surprised to find merely a handful of people here. While the views aren't quite as spectacular as the main peak, they are still beautiful and it's always good to escape the crowds.
The view from the second peak does not show all of the limestone mountains as it is slightly blocked by the main peak. The main views from up here are of the surrounding towns and farmland. You also get a great view of the stairs up the mountain, which is cool. This place has also been likened to a mini Great Wall of China and with this view you can see the similarities.
There is a small pagoda at the top of the second peak which is set right on the edge of the cliff. It's a great spot to snap some photos and perfect to watch the sun go down in relative peace and quiet.
After spending around an hour at the top of Hang Mua Peak we climbed back down the 500 stairs, which was way easier than coming up, and headed for home fully satisfied after another epic sunset mission.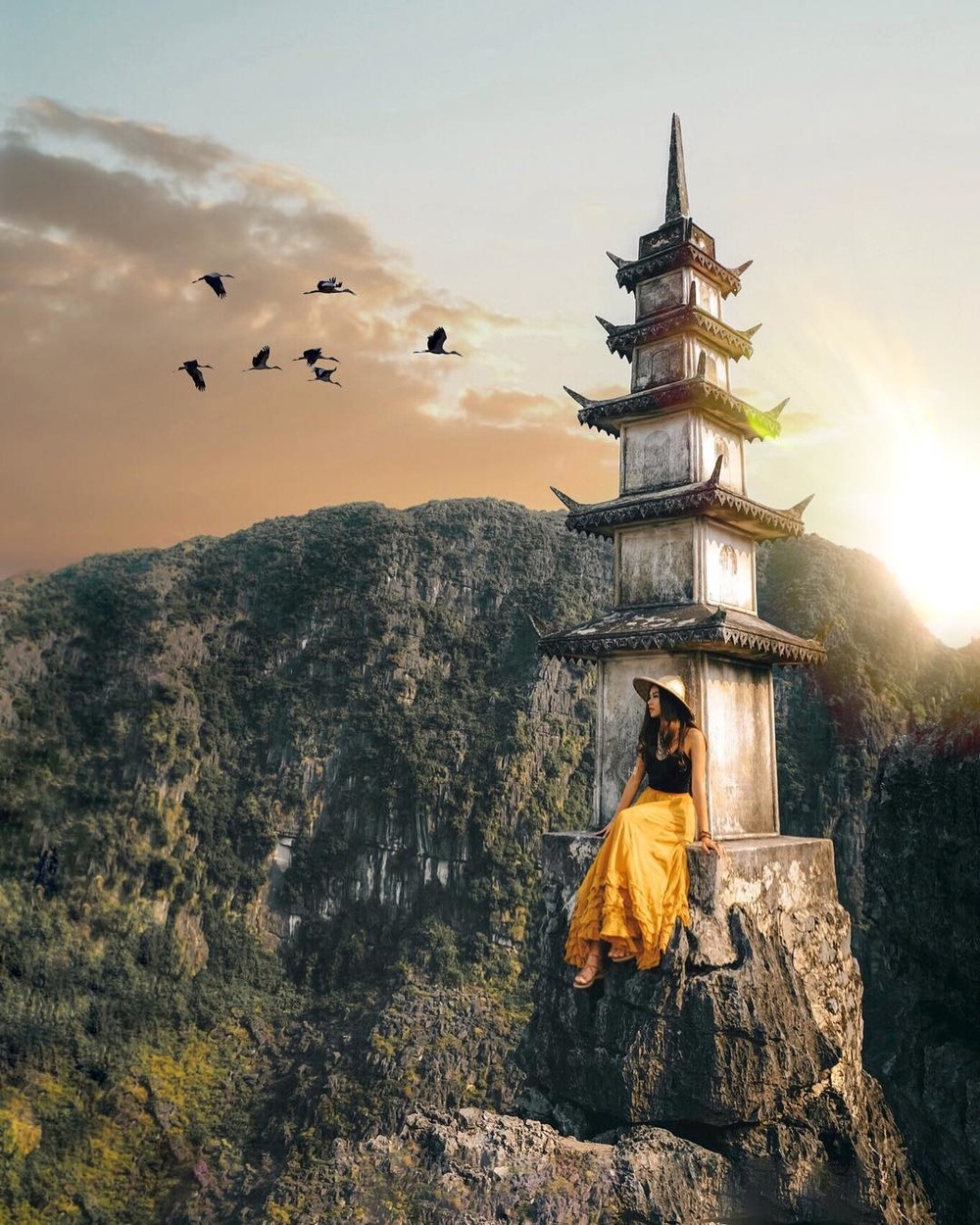 Where to Stay
Tam Coc is a great place to stay when visiting the Ninh Binh province. Situated in amongst the waterways and limestone cliffs, it is a beautiful setting for a few nights. There is accommodation to cater to any budget, endless great restaurants and plenty of shops to potter around in. We found it to be the perfect hub to get out and explore places like Bich Dong Pagoda and Trang An.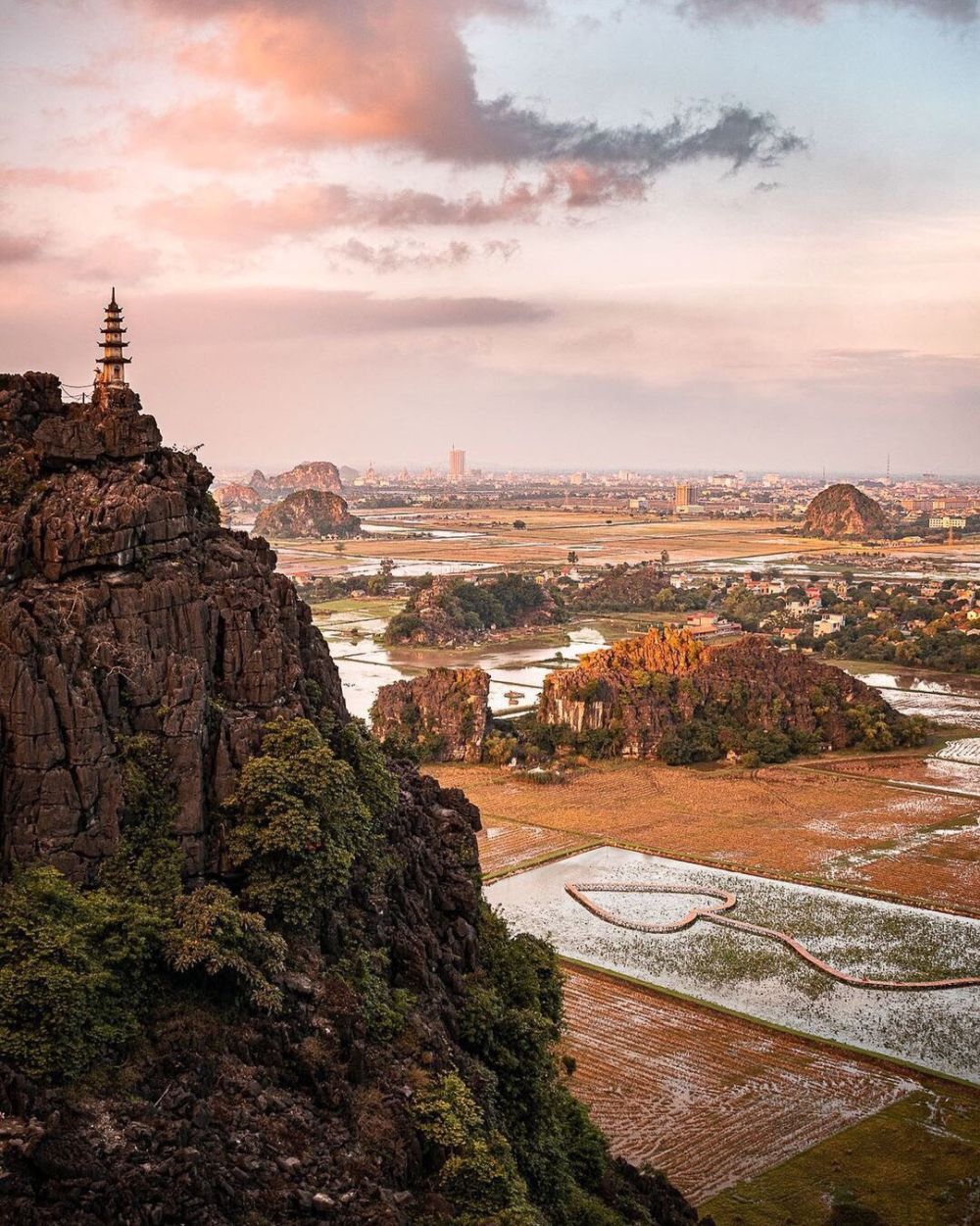 Final Thoughts
Hiking to the top of Hang Mua Peak was the highlight of our time in Ninh Binh and one of the best views we had in Vietnam. Views this good are hard to come by and a sweaty 30-minute climb is a small price to pay. If you are going to visit Vietnam a visit to Dragon Mountain Ninh Binh is an absolute must, especially for sunset. We had a blast exploring the region and getting to see views like this is one of the reasons we love to travel so much.