01 June, 2023
Australia's Lonely Planet Magazine has recommended 15 top travel experiences to discover the culture, cuisine and the hidden gems of Vietnam.
Taste Hue's imperial cuisine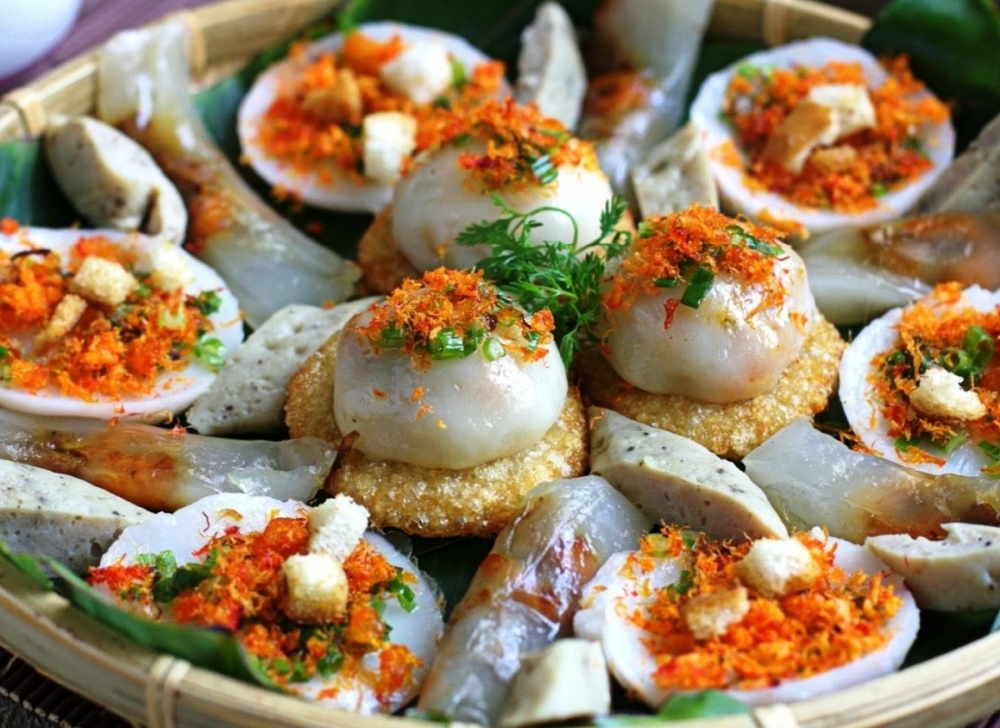 Banh ram it is topped with shrimp powder and stir-fried onion.
Once the capital of the Nguyen Dynasty, the last royal family that ruled the country from 1802 until 1945, Hue is famous for its complex of royal tombs with distinctive architecture. The ancient citadel is known for its diverse culinary scene with over 1,700 dishes, many of them originating from the imperial kitchen in the royal palace.
In addition to its signature bun bo Hue (Hue-style beef noodle soup) that can be found on every street corner in Hue, banh beo (steamed rice cake), banh ram it (fried dumpling) and banh bot loc (tapioca dumpling) are must-try specialties in Hue.
Che (sweet soup) used to be an indispensable dessert for kings and royal families during the reign of the Nguyen Dynasty, much liked for its freshness and nutritional value.
It's not difficult to find sweet soup stalls in Hue where you can enjoy a variety of this dessert, such as che hat sen (lotus seed), che nhan boc hat sen (longan stuffed lotus seed), and che khoai mon (taro sweet soup). These specialties are bound to satiate you sweet tooth.
Watch rare monkeys on Son Tra Peninsula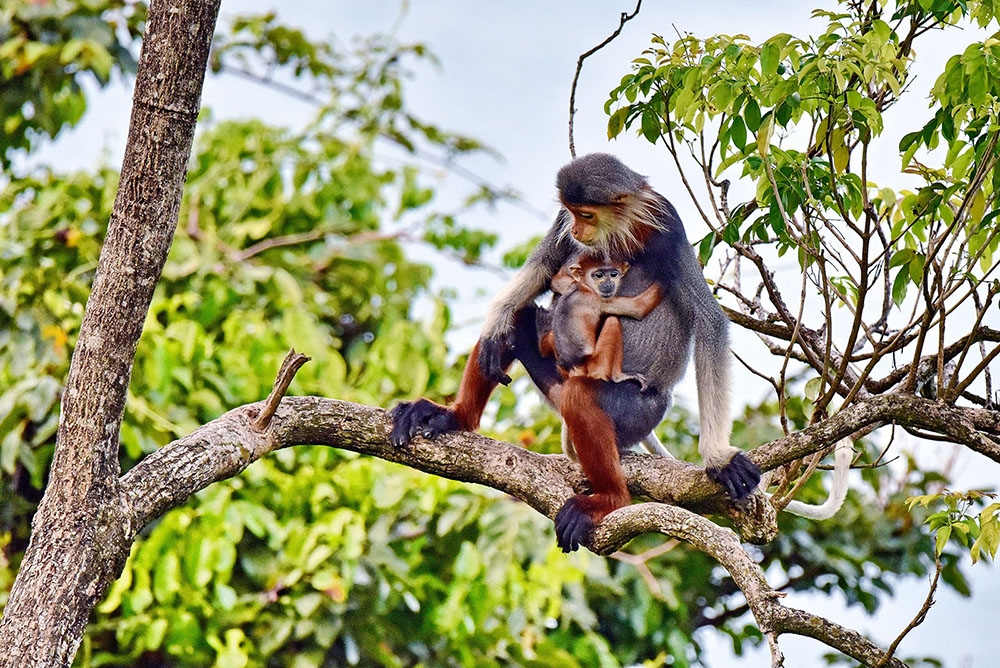 A red-shanked douc langur jumps between trees like a circus acrobat on Son Tra Peninsula in Da Nang.
Son Tra Peninsula, around 10 km from downtown Da Nang, spreads over more than 4,400 hectares (10,880 acres), with long stretches of beautiful beaches and primeval forests.
A natural shield for the beach city, the peninsula is home to red-shanked douc langur with a population of 300-400 that are under strict protection.
The red-shanked douc is a rare and endemic species in Vietnam. The World Wildlife Fund (WWF) has placed the primate on the list of animals in need of unconditional protection.
Over the last few years, the peninsula has become known as a place where visitors can enjoy watching and taking beautiful photographs of the langurs.
However, tourists are advised to refrain from feeding the monkeys to avoid disrupting their eating habits and the population's health.
Explore a UNESCO-protected Hindu temple complex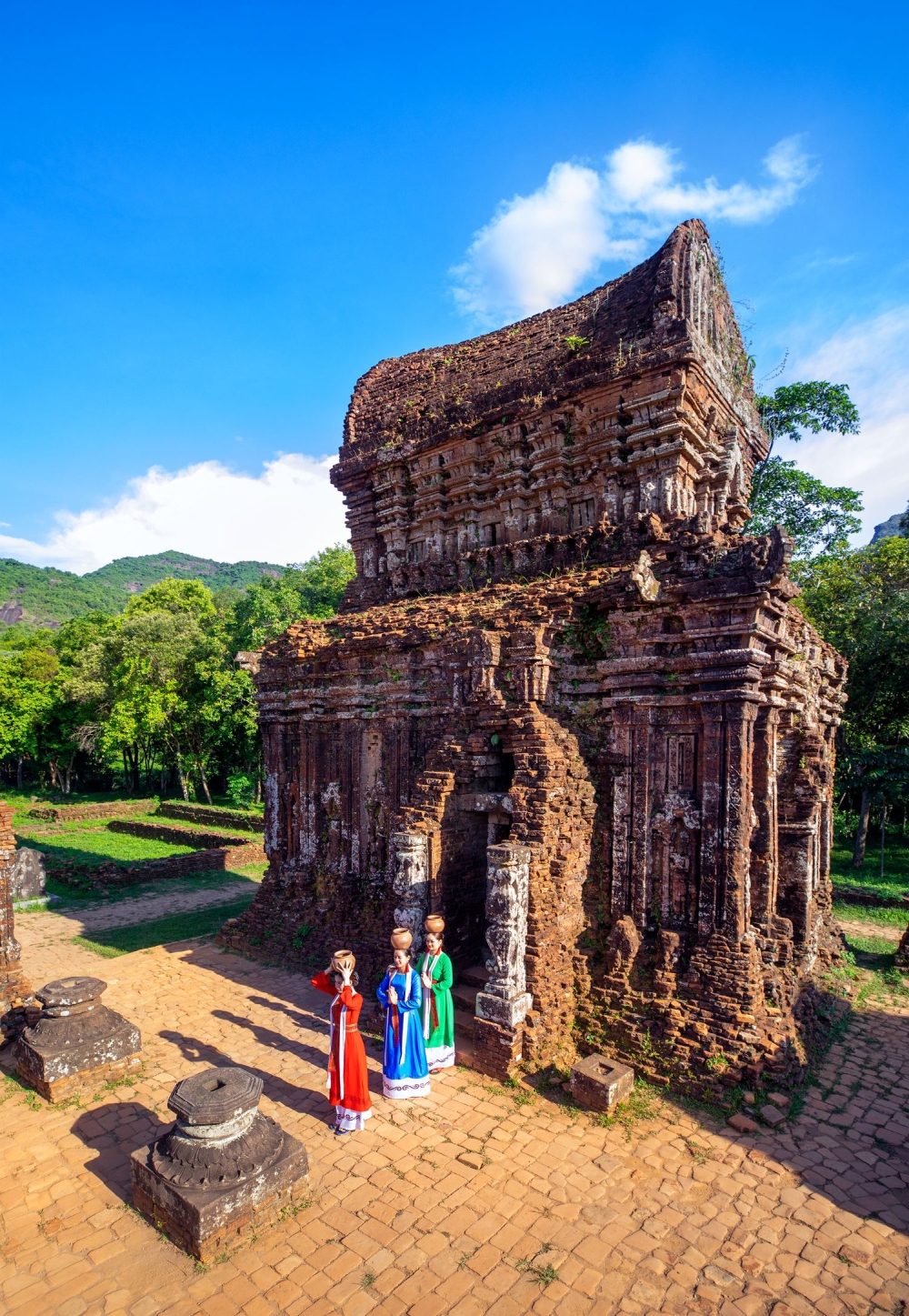 My Son sanctuary near Hoi An ancient town.
"Many visit the UNESCO-protected ancient town of Hoi An, but fewer venture inland to another UNESCO delight – My Son sanctuary, a cluster of Hindu temple ruins surrounded by jungle and a ring of mountains protecting the sacred Thu Bon River," Lonely Planet said.
The My Son Sanctuary is a complex of abandoned and partly ruined Hindu temple towers constructed between the 4th and 14th centuries when the Champa Kingdom reigned.
Last year, local authorities launched a new tourism product, the Cham dance performance program with lighting effects, in an effort to attract foreign tourists.
Visit the Cao Dai Temple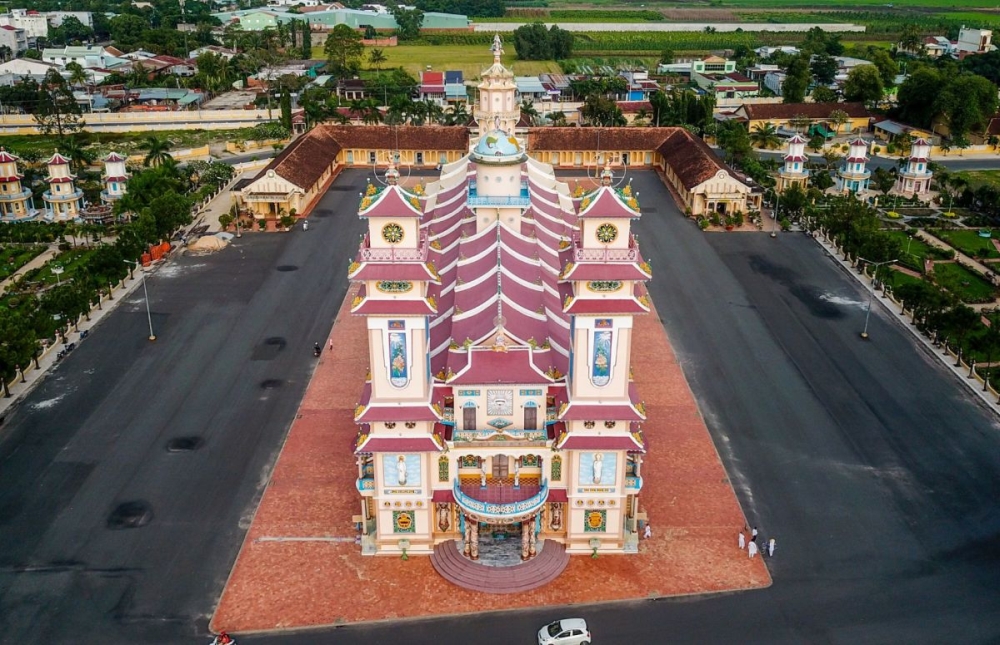 The Cao Dai Holy See in Tay Ninh Province is seen from above.
The Cao Dai Holy See in the southern province of Tay Ninh, around 70 kilometers to the east of HCMC, was founded in 1926 and houses a temple, residences for officials and followers, and a herbal medicine hospital that attracts many patients, especially from the south.
From a distance, the structure looks like a European-style church fronted by two bell towers.
The main icon of Caodaism is an eye that casts a glow representing the Supreme Deity. Caodaism also worships other deities such as Buddha, Jesus, Confucius, and Guanyin. Their images can be seen at many places in the Holy See.
Worshippers gather for prayers at midnight, 6 a.m., noon, and 6 p.m. every day at the Holy See. Visitors are allowed to observe them.
Jump on a motorbike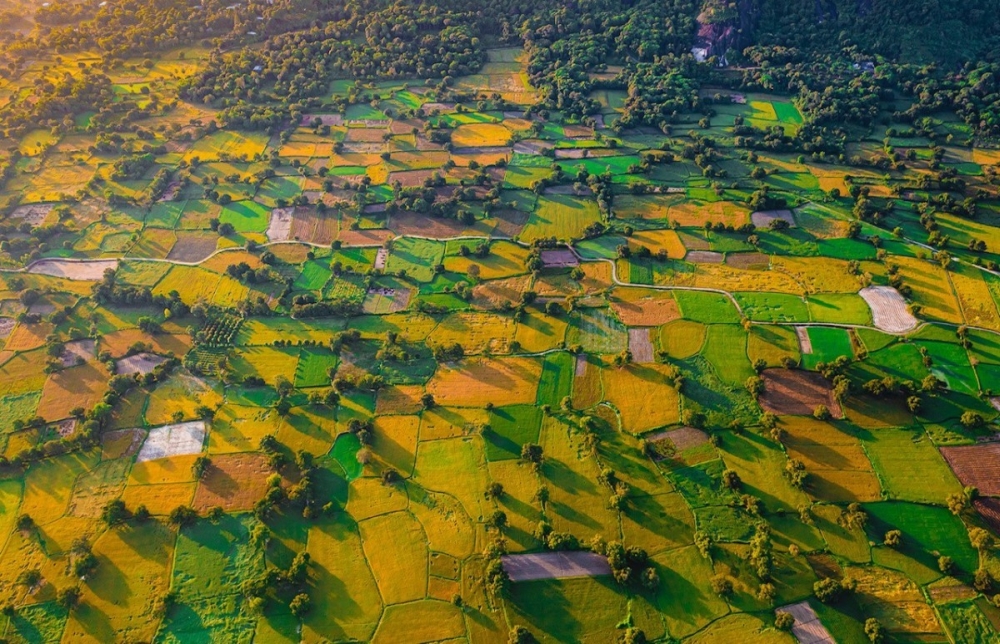 A panoramic view of Ta Pa field in Tri Ton District with paddy fields stretching out in vast swathes of brilliant green and yellow.
"A motorbike offers total freedom to explore the country," says Lonely Planet, recommending tourists try a motorbike tour from HCMC to explore the S-shaped country through green paddies in the Mekong Delta, stunning beaches along central Vietnam coastline or mountain ranges in the north.
Riding from Saigon to Hanoi by motorbike is probably the most popular road trip in Vietnam, and unquestionably one of the best ways to experience the country.
The road traverses heavily forested limestone mountains, runs along rivers, and cuts through rice paddy fields, allowing travelers to explore popular destinations like Binh Thuan, Nha Trang, Da Nang, Hue and Quang Binh.
International driving permits are becoming increasingly necessary, so make sure that you have a valid motorcycle license.
Conquer Ban Gioc Waterfall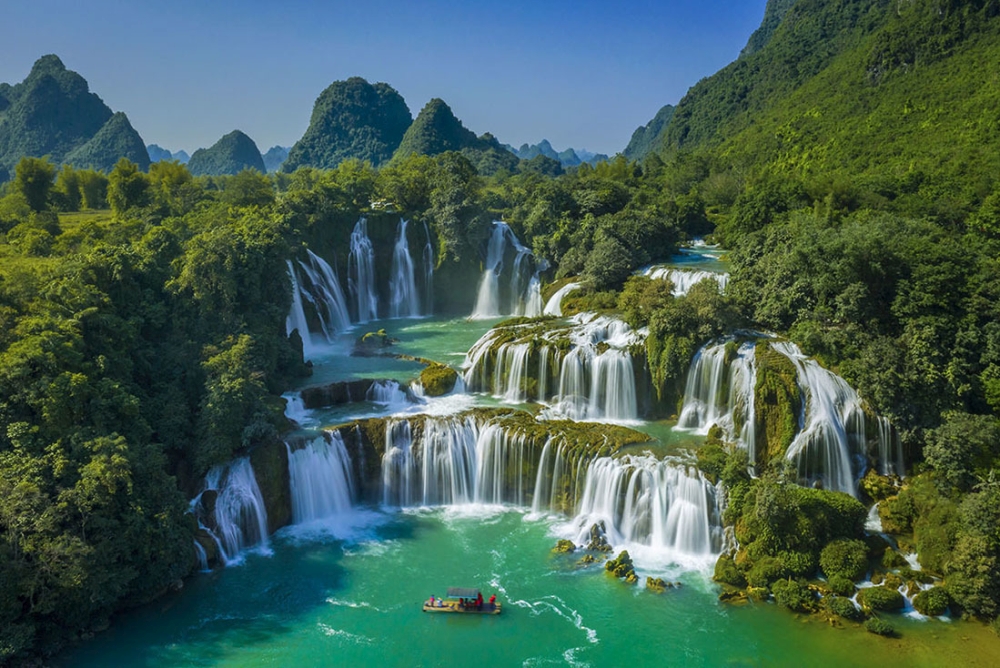 A raft carries tourists to visit Ban Gioc Waterfall in Cao Bang.
Ban Gioc Waterfall, which straddles the China border 30 kilometers from the central market of Cao Bang's Trung Khanh District, is the largest waterfall in Southeast Asia and the world's fourth largest along a national border after Iguazu, Victoria and Niagara.
The waterfall is 53 meters high and 300 meters wide and has three levels of smaller waterfalls.
A small sloping path leads to the waterfall. Buses with a seating capacity of 25 or less can travel down the path while bigger ones drop their passengers off at a parking lot at the Vietnam border station. Travelers can walk down to the falls from there.
The Tay ethnic minority community often brings horses here to provide photos ops for VND20,000 (85 cents) a pop.
Breathe the fresh air in Da Lat
Du Sinh Hill near Da Lat Town is shrouded in mist.
Da Lat is dubbed "Little Paris," due to its history as a summer escape for French colonial officials who built villas in the hills to escape the heat and humidity of the lowlands.
The Australian magazine urges tourists to explore the town's French-influenced heritage via the array of old villas where the French lived 100 years ago, or visit the Hang Nga Crazy House, famous for its extraordinary exterior which resembles a monstrous banyan tree.
The highlands town is cool all year round, its dense pine forests make it one of the freshest destinations in Vietnam.
Visit Dak Lak's coffee plantations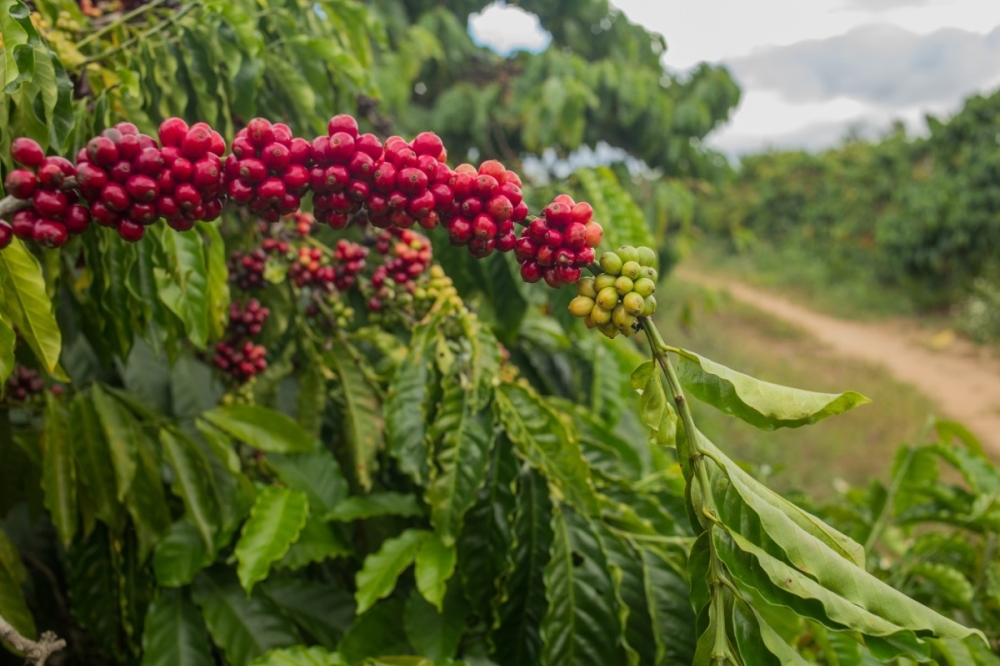 A coffee field in Buon Ma Thuot, the capital of Dak Lak.
Dak Lak is Vietnam's biggest coffee-growing province, accounting for one-third of the country's coffee production, with 476,200 tons harvested in the 2019-2020 crop, according to official data.
The best time to visit Dak Lak is from September to the end of December, which coincides with the harvest season, giving tourists an opportunity to see farmers harvesting different kinds of coffee such as arabica, robusta and liberica.
The area is known for many coffee brands, which are not only famous at home, but also exported to more than 80 countries and territories throughout the world.
Discover Vietnam's Maldives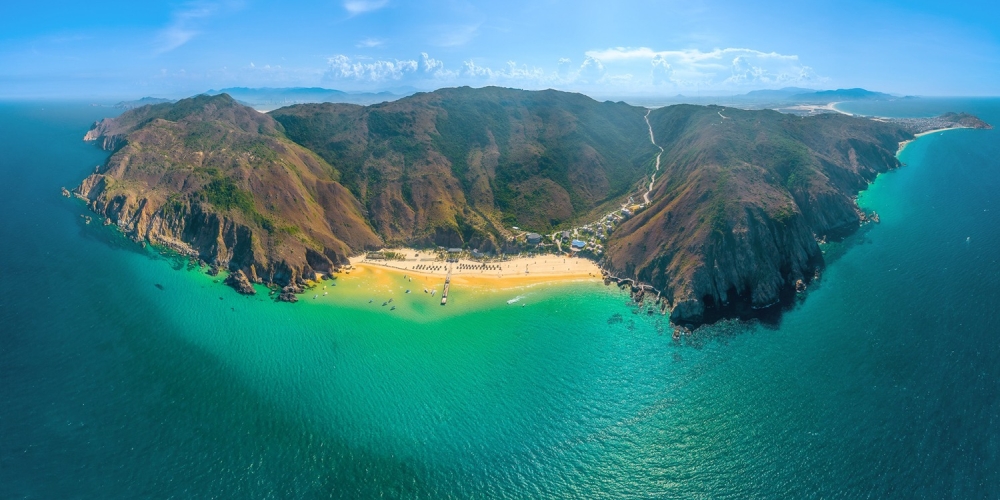 Ky Co beach with turquoise waters is seen from above.
Quy Nhon has emerged on the global tourism map in recent years after international media called it "a perfect getaway" with long, sandy beaches and crystal-clear water.
"Its long, fine white beaches backed by mountains have earned Quy Nhon the name 'Maldives of Vietnam'," Lonely Planet described.
Ky Co is the most popular beach in Quy Nhon thanks to its two colored water with distinct shades of green and blue, making for an arresting sight.
Renting a motorbike is the most convenient way to travel to Ky Co. The service is available online or at hotels. Some people also choose to book a Ky Co tour which normally includes a boat service to take you to the island, a meal, and diving, all priced at about VND350,000-VND400,000 per person.
Brave Son Doong, the world's largest cave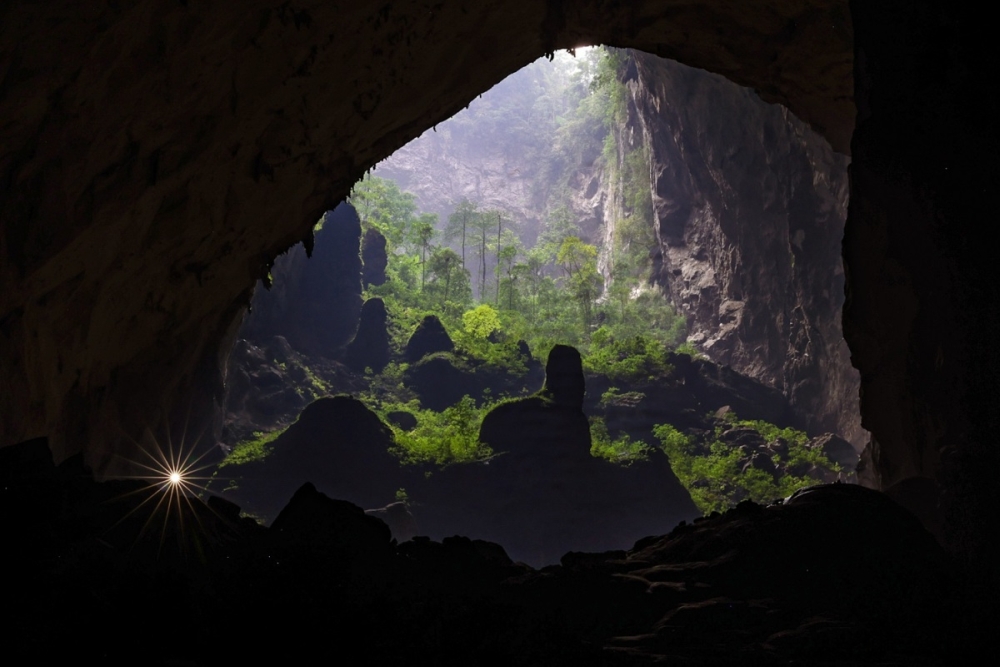 A sinkhole inside Son Doong Cave is seen from a campsite.
Son Doong in Phong Nha-Ke Bang National Park in the central province of Quang Binh has hogged the international spotlight since it opened to tourists in 2013.
A four-day-three-night expedition to the cave costs VND69.8 million (US$3,000) and tourists need to have good physical and mental preparation to conquer the world's largest cave due to its complex terrain.
Trekkers accompanied by a specialist go through unique underground rainforests, kayak in rivers both above and below ground and climb a 90-meter-high wall dubbed "The Great Wall of Vietnam" with ropes and ladders.
Learn about Vietnam's war history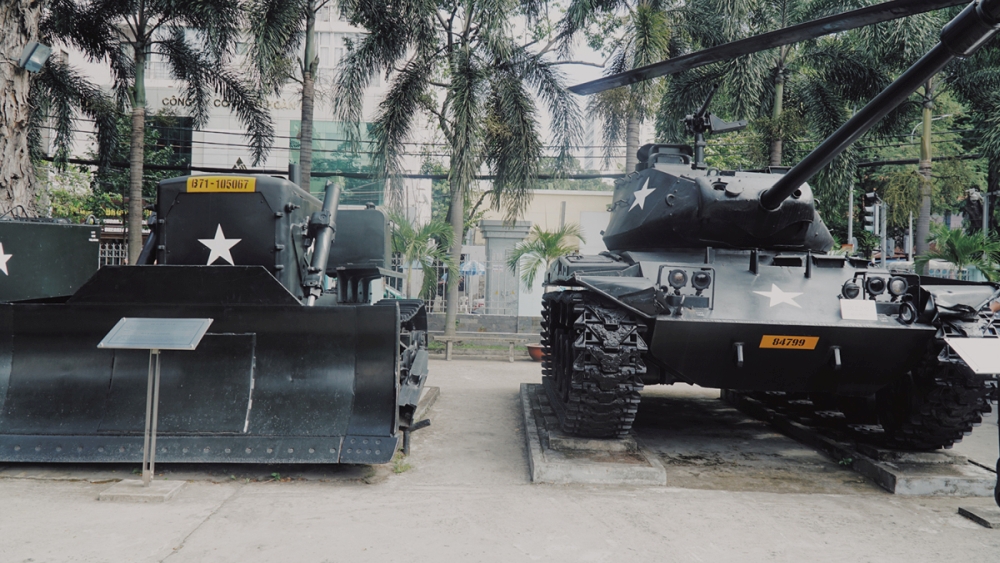 US tanks are on display at Saigon's War Remnants Museum in HCMC.
For many Westerners, Saigon's War Remnants Museum on Vo Van Tan Street in HCMC's District 3 triggers their curiosity as it has more than 20,000 artifacts, images and documentaries that relive the atrocities of the war, including war crimes perpetrated by imperial and colonial forces. Millions of Vietnamese continue to suffer the consequences of the war to this day.
The museum, just about a five-minute drive from Ben Thanh Market, was built in 1975.
"The War Remnants Museum pulls no punches in detailing war atrocities, napalm burns, unexploded ordnance and a perfectly conserved U.S. tank," Lonely Planet said.
Cruise along bays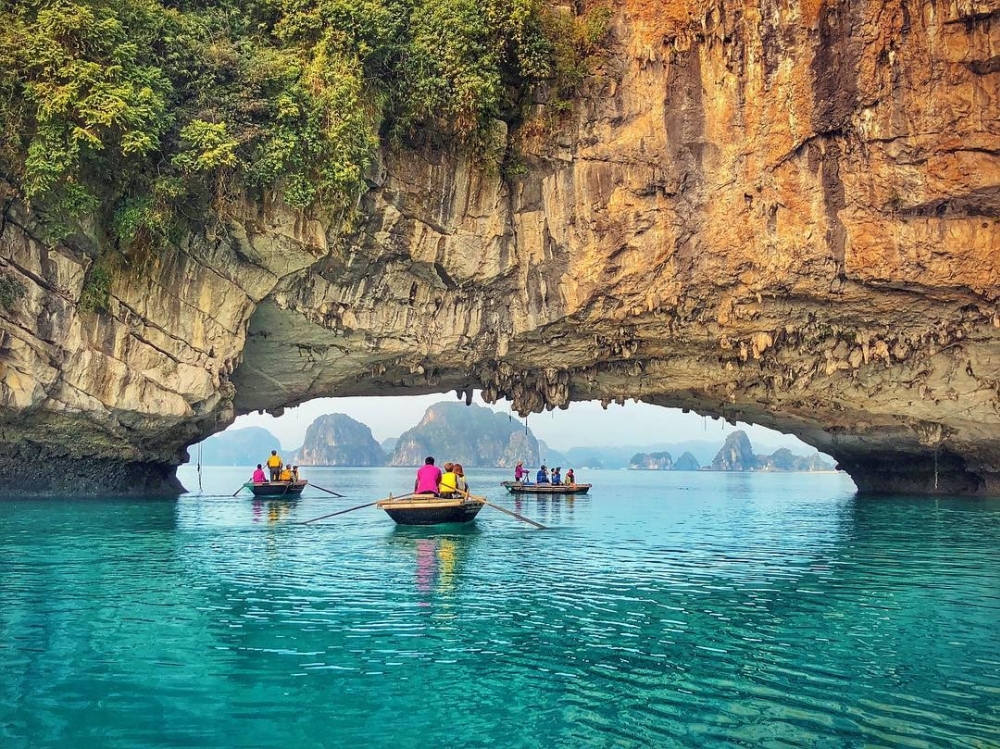 Bai Tu Long Bay in northern Vietnam.
Cruise tour is the best way to explore the world heritage site Ha Long Bay, which is dotted with karst limestone mountains rising out of emerald waters.
For those who want a luxurious overnight stay to watch the sun come up on Ha Long Bay, Heritage Cruises, Indochine Cruise, Paradise Cruise and Stellar of the Seas are worth considering.
All five-star cruise ships in Ha Long are equipped with luxury cabins and modern amenities like bars, swimming pools, a golf club, a gym and spas.
They also offer outdoor adventures like kayaking, cave exploring, onboard cooking classes, squid fishing at night and excursions to floating villages.
If Ha Long is crowded, its sister Bai Tu Long Bay is an alternative choice where there are still few tourists.
Explore floating market in the Mekong Delta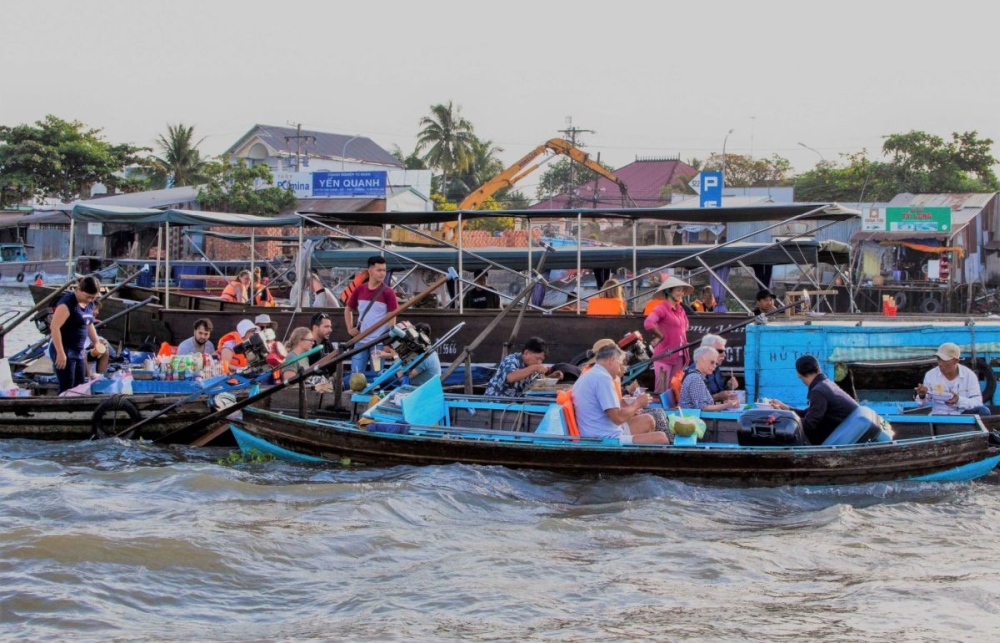 Foreign tourists sit on boats to explore Cai Rang floating market in Can Tho.
For centuries, the Mekong Delta has been Vietnam's rice basket. Today it is famous for its unique floating markets where local specialties are sold from boats.
Lonely Planet advised tourists to explore Cai Rang floating market in Can Tho, the biggest of its kind in the Mekong Delta.
A 40-minute boat ride is the best way to explore life along the waterways as it passes houses built on stilts over the water and boats in a bewildering variety of sizes, shapes and colors docked along the shore.
Lost in golden rice harvest season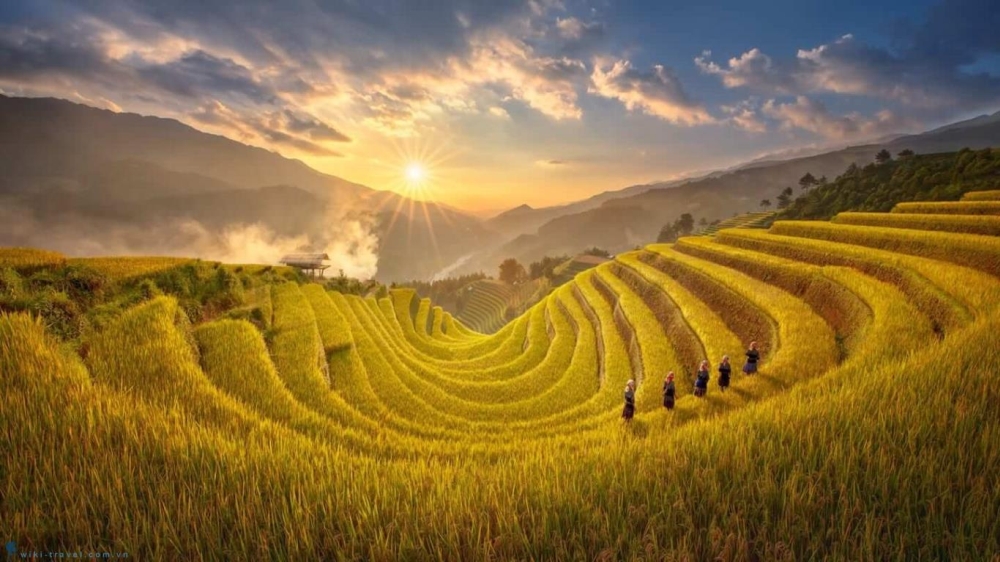 Terraced rice fields during the harvet season in Mu Cang Chai in northern Vietnam.
Mu Cang Chai, a rural district in northern Yen Bai Province where most population mainly depend on farming for a living, is famous for its terraced rice fields that are dyed a golden yellow during the rice harvest season between September and October.
Mu Cang Chai is around a seven hour drive northwest of Hanoi. It sits at 1,000 meters (3,300 feet) above sea level at the foot of the Hoang Lien Son mountain range.
Thanks to its rising popularity, ethnic minority groups here have started to turn their homes into friendly homestays to accommodate tourists.
Ride the Ha Giang Loop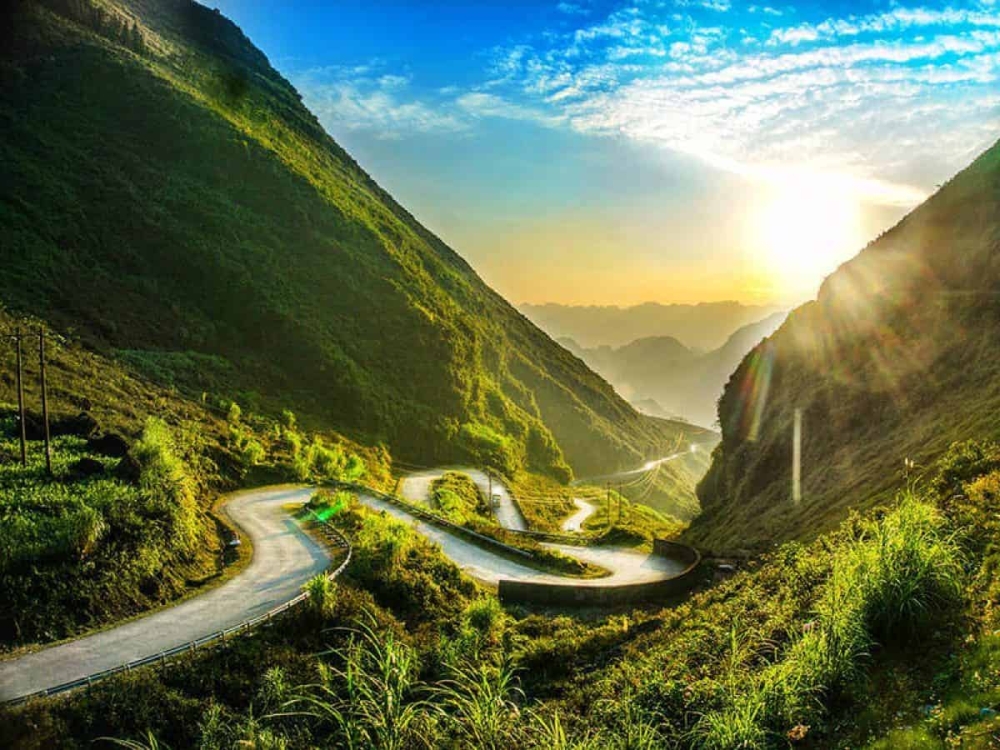 Ha Giang Loop is notorious for its twisting, narrow roads and dangerous mountain passes.
The 350-meter-long Ha Giang Loop in the northern mountainous region is always a favorite with foreign backpackers as they want to conquer one of Vietnam's toughest trails.
The journey takes from three to five days depending on weather conditions but is not easy to conquer for amateur travelers due to its twisting, narrow roads and dangerous mountain passes.
Winding their way through Ha Giang Loop, travelers will have a chance to explore the cultural identities of at least 10 ethnic minorities groups, including Hmong, Tay and Thai.
As part of the journey, tourists will run through Ma Pi Leng, one of the country's most dangerous mountainous passes, where there is a river below called Nho Que with emerald waters that is popular for boat tours.
Ha Giang's recent tourism boom has seen many motorbike rental services spring up in the province. Foreigners only need to leave their passports and pay around VND150,000 per day to rent a motorbike.