'Banh gai' or thorn leaf cake is an inexpensive but very delicious food, popular in the northern province of Hai Duong.The cake has long been an traditional offering at festivals and a traditional gift at longevity parties.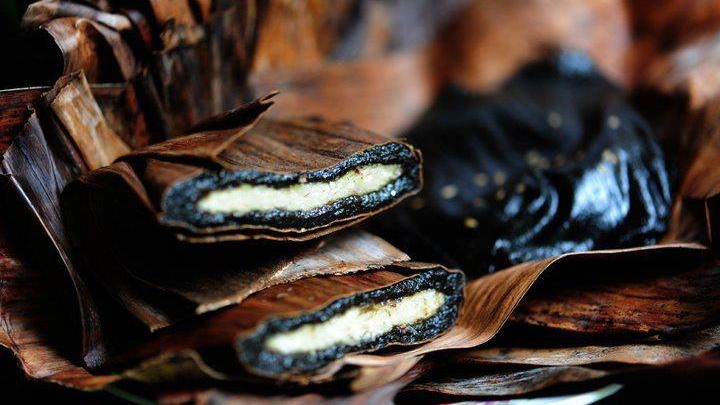 The cake is made from high quality rice flour mixed with thorn leaf paste, filled with stirred-in-sugar green bean and wrapped in many layers of banana leaves. It's believed that eating the cake frequently improves the quality of one's sleep, prevents blood clots, relieves headache.
The most important thing in making thorn leaf cake is balancing the ratio of thorn leaf and rice flour. If you use too much thorn leaf, the cake takes more time to solidify, causing a dense texture.
The ingredients for making the filling are very basic. But the cooking process is not that simple. Unpeeled green beans, shredded coconut, sugar, white sesame seeds, pork fat, and vanilla extract is everything you need to make the filling. The filling, made of green beans stirred with sugar, should be refined and not sticky because dried filling would ruin the flavor of the cake.
When the green bean paste is ready, add a piece of pork fat, coconut shreds, and vanilla extract or pomelo flavoring. The cakes, sprinkled with white sesame seeds, are then wrapped in banana leaves. The leaves should be covered with a little bit of pork grease to avoid sticking. Finally, the cakes are steamed for about 1 hour in boiling water.
People always put five cakes in one pack and tie them carefully with a dried straw. The number 5 represents luck, wealth, and happiness.
When you remove the banana wrapping, the cake will have a special dark color and the lovely aroma of thorn leaves. The cake is best when served cold.